An Islamic State supporter has been jailed for life after being found guilty of the murder of a Rochdale imam who was found beaten to death in a children's playground. Mohammed Syeedy, 21, has been convicted of the religiously motivated murder of 71-year-old Jalal Uddin on 18 February.
Syeedy was accused of planning the murder of Uddin with his co-accused Mohammed Abdul Kadir, 24, as the imam practised a form of Islamic faith healing called "ruqya" which is considered "black magic" by IS (Isis/Daesh) and punishable by death.
Uddin was targeted for providing "taweez", in which he made amulets to bring good fortune to the wearer. Such amulets can be worn by a person and can contain mathematical symbols and verses from the Quran.
Prosecutor Paul Greaney QC told the jury: "Amulets involve the magician writing a series of magic formulae on a piece of paper, folding or rolling it and then placing it in a small box or other receptacle.
"The person who has requested the taweez then keeps it with himself or herself at all times in order, for example, to guard against the evil spirit. Sometimes it is worn around the neck but often it is not because the wearer might otherwise attract criticism or attack. As a result, it is sometimes sown into clothing."
Uddin, a former imam at the Jalalia Jaame Mosque in Trafalgar Street, Rochdale, was found with serious head injuries in a play area in Wardleworth following what is believed to be a hammer attack.
During the investigation, police uncovered a large amount of IS-related material at the homes of the defendants, including patches, flags and a headband with jihadist symbols. His phone also contained videos of his younger brother planting an alleged IS black flag outside Wardleworth Community Centre – close to where Uddin was killed and another video recording showing a friend in a local B&Q store stating: "Islamic State are coming to Oldham."
Police also found video footage of Uddin lying dying on the ground following the beating, which is believed to have been filmed by a local Rochdale teenager.
Syeedy denied being a supporter of the extremist group and told the jury at Manchester Crown Court he was "disgusted" about the death of Bangladeshi national Uddin.
Syeedy acted as getaway driver for Kadir who is believed to have fled abroad the day after the killing, and could be in Syria. He denieed murdering the iman but admitted to the court he did not agree with "taweez" and he was previously involved in a plan to deport Uddin after it was found he was illegally overstaying in the UK.
The jury has now found Syeedy guilty of murder and he was sentenced to 24 years in jail.
Sue Hemming, Head of CPS Special Crime and Counter Terrorism Division, said: "The prosecution proved that Syeedy believed Jalal Uddin to be practising black magic and, inspired by the teachings of Daesh, that the victim deserved to die for that belief. Syeedy and his accomplice stalked Jalal Uddin round the streets before attacking him and leaving him to die.
"The poisonous ideology of Daesh cannot be allowed to sow division in our society and those who carry out or encourage violence in its name will be prosecuted. Our thoughts are with Mr Uddin's family and friends."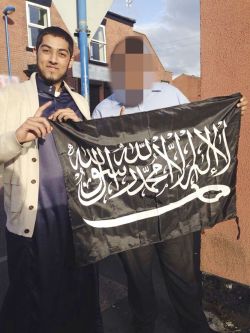 Detective Chief Superintendent Tony Mole, head of the North West Counter Terrorism Unit, said: "First and foremost I would like to extend our deepest condolences to the family of Jalal Uddin. He was taken away from his loved ones in what was, quite frankly, a brutal and horrific attack on a lone man.
"Although Mohammed Syeedy may not have delivered the fatal blow to Mr Uddin, it is clear that he played an integral role in the murder. This has been a long and delicate investigation, with a team of detectives working meticulously to fully establish exactly what happened to Jalal and I want to thank them for their work.
"I would also like to thank the local community for the patience and support they have shown us throughout this investigation. Their assistance and understanding has been a vital part of this process and they have been a credit to the town of Rochdale.
"I hope the outcome here today will bring some closure to Jalal's family and help them continue to rebuild their lives following their tragic loss."
The family of Uddin has paid tribute to him following the sentencing. tehy said: "Having attended court for the past four weeks, listening to the evidence of Jalal's last moments has been the hardest thing we have had to endure as a family. But we take comfort from the fact that the evidence acknowledges that Jalal was a greatly respected man, a caring and loving soul.
"The evidence has also highlighted how the events leading up to his murder showed what an incredibly cruel and callous attack this was on an innocent elderly man. It was shown that Jalal was unable to defend himself against such brute force making the acts of these perpetrators deplorable and cowardly."