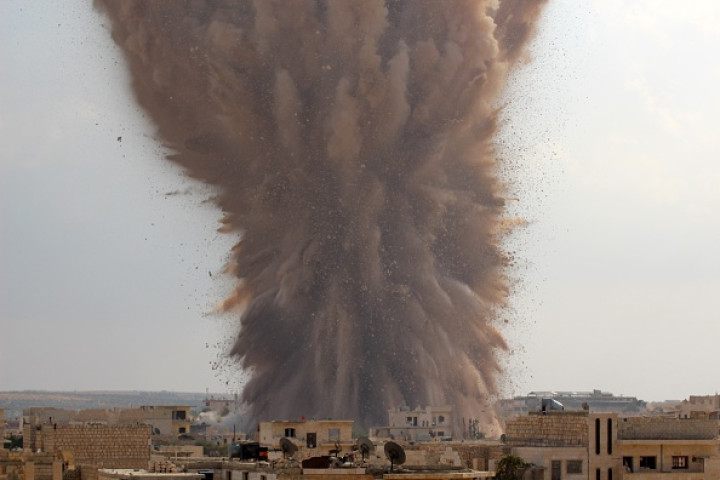 Isis (Islamic State) and Jabhat al-Nusar militants were close to capturing Syria's second city after hundreds of jihadists took over the newly appointed governor's office in the provincial capital, Idlib.
It's believed 70 Syrian senior army officers were beheaded before government troops could recapture the building and save Idlib.
A message to Damascus read: "they were slaughtered," and the Assad administration initially assumed that the city was taken over by the jihadists after a majority of security officials at governor Kheir Eddib Asayed's office surrendered the building.
The soldiers at the city's perimeter, however, kept fighting several hundred jihadists who were trying to enter into Idlib until the governor's office was finally recaptured.
A timely call to army headquarters by the new governor, who was not in his office at the time, helped prevent false news of Idlib's capture from causing havoc in Damascus.
Despite the attack being directly linked to Jabhat al-Nusra rebels, the Syria army considers all of its opponents a part of Isis terrorists.
The gunmen even carried out the attack in the typical Isis-style by capturing the maximum number of senior regime officers and carrying out their ritual beheadings using a knife rather than shooting their enemies.
Before the Jabhat al-Nusra rebels were defeated, they were heard claiming that their victory was "a second Raqqa" and "soon, you will hear the screams of unbelievers," reported the Independent.
Idlib is strategically placed between Aleppo and the coastal city of Latakia, and had it been lost to the jihadists, President Bashar al-Assad's regime would have taken a major blow.
Over 2,000 people are reported to reside within Idlib and the city is known amongst tourists for its museum that houses treasures from Roman 'dead cities' of northern Syria.
At present, the eastern city of Raqqa remains under the control of the Islamic caliphate (Isis).