Islamic terror group Isis has unveiled a poster urging jihadists to attack the Vatican in the run up to Christmas.
The haunting image shows a terrorist at night with a wolf at his side looking down over St Peter's Square. Behind him lies a rocket launcher and a machine gun.
Its chilling text begins: "'The Crusaders' feast is approaching".
The poster, circulated online by the pro-Isis Wafa media group, continues: "Show them the meaning of terrorism. Kill them and do not hold back with your blood the reward is paradise and let them know that you are from an ummah [Muslim community] where mountains bow down to.
"We will not forget our revenge for every drop of blood that they have shed we will not exclude the young, elderly or women you are all in the crosshairs of our arrows and what is about to come is more even worse."
The image was highlighted by the US based the SITE Intelligence Group, which tracks the online activity of white supremacist and jihadist groups.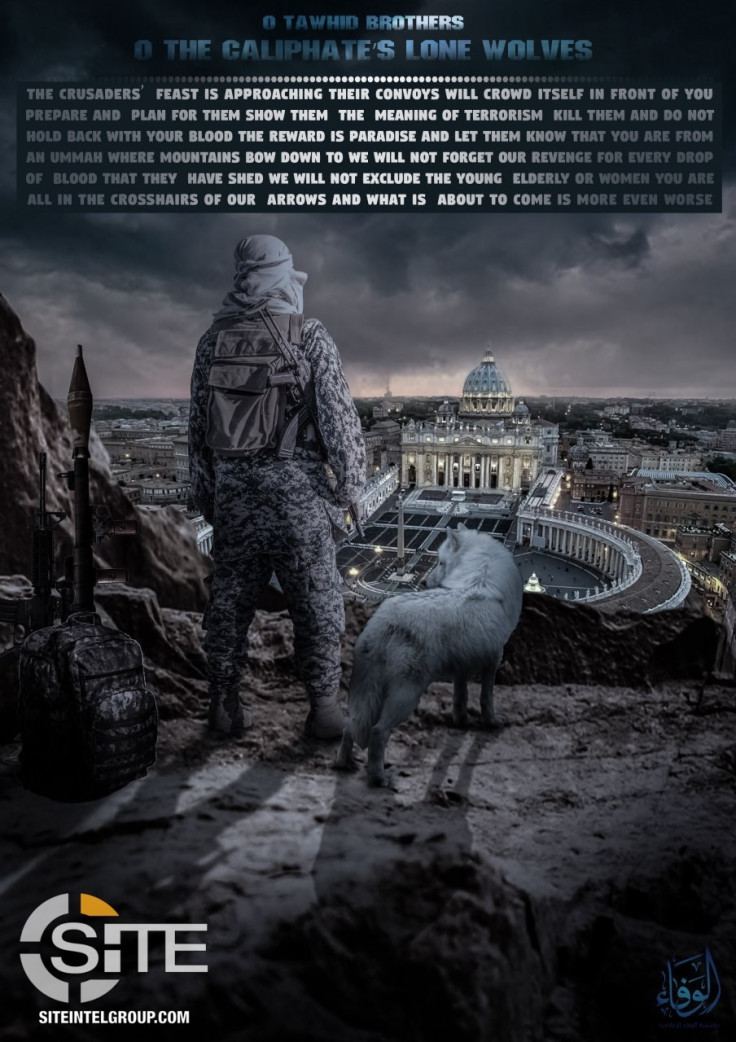 This is not the first time Isis and its affiliates have made threats against the Vatican and Pope Francis.
Recently, a group that supports Isis released a gruesome image depicting a beheaded Pope.
In the lurid picture a jihadist stands over the body of a prisoner in an orange jump suit and clutches the decapitated head of the Pope Francis.
Next to the severed head the pontiff's given name is written, Jorge Mario Bergoglio.
Last year Italian police said they arrested least four people who planned to carry out terror attacks against the Israeli Embassy in Rome and the Vatican.
And in 2015 the authorities in Italy said they broke up a network of Islamist radicals that may have been planning an attack on the Vatican.
Police arrested nine suspects, including two men who were bodyguards of al-Qaeda founder Osama bin Laden before he was killed in a raid by US special forces in Pakistan in 2011.
"For Isis, the Vatican in particular is a symbol of the 'Crusader' West, and any attack made against it would be widely accepted by all of its followers," Rita Katz, director of the SITE Intelligence Group, told Newsweek last month.