Isis video shows jihadists destroying ancient UNESCO-protected city of Hatra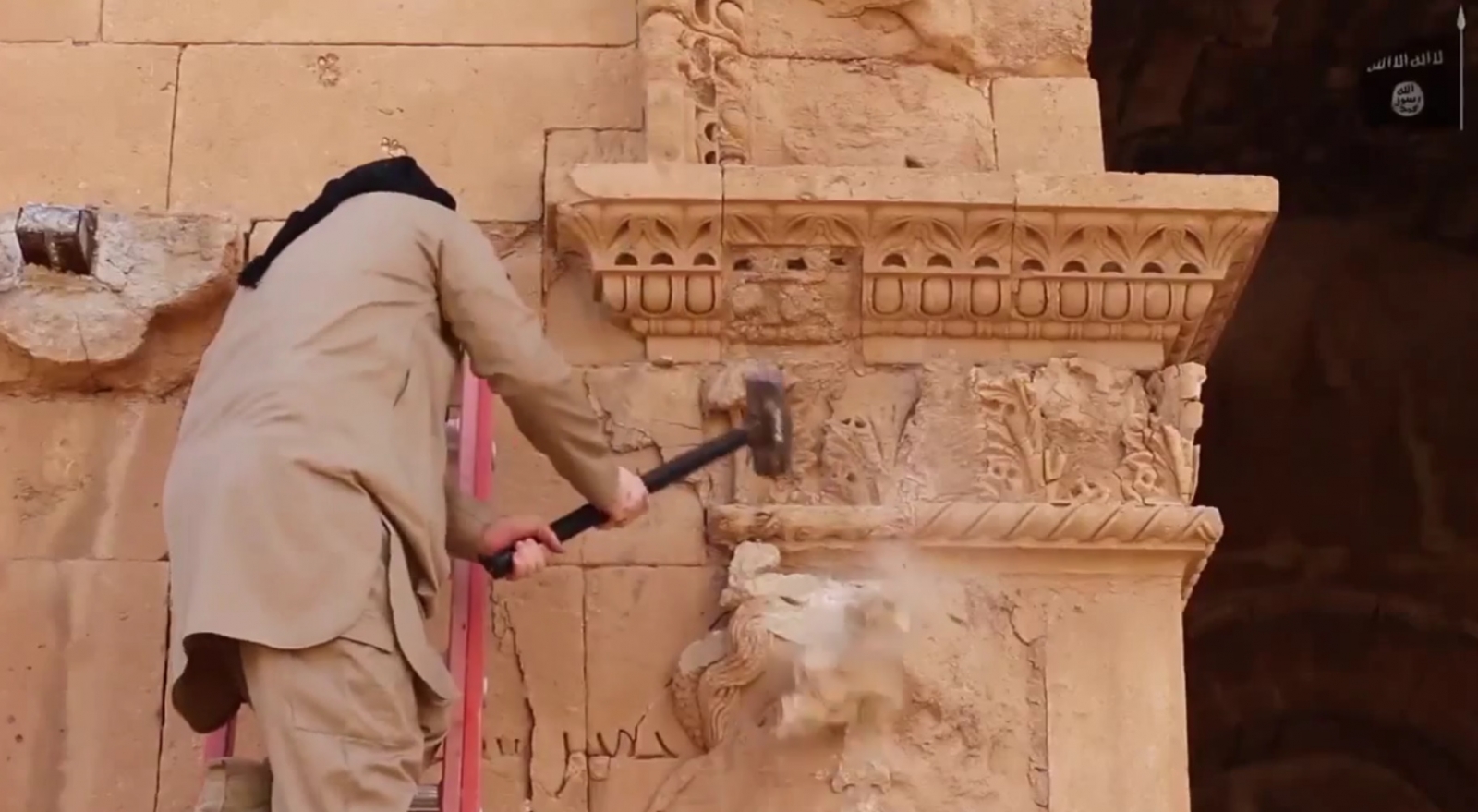 The Islamic State (Isis) has released a propaganda video purportedly showing its militants taking sledgehammers to Iraq's UNESCO World Heritage city of Hatra.
The clip is the last in a series published by the jihadist group to advertise its iconoclastic fight against shrines, statues and artefacts of ancient civilisations, which it designates as "false idols" to be destroyed according to a strict interpretation of Islamic Law.
The slick seven-minute footage titled "smashing idols" begins with aerial footage of what appears to be the 2,000-year-old archaeological site in Iraq's Nineveh governorate, some 290km north-west of Baghdad.
Several militants are then seen addressing the camera in Arabic from inside the ancient city, before to move to destroy artefacts and adornments. One uses a pickaxe to reduce an ancient statue to crumbles while others fire Kalashnikov rifles at carved faces bulging from the city walls or bang sledgehammers on their the back until they crash to the ground.
Hatra was founded in the days of the Seleucid Empire (300-200 BC), and flourished under the later Parthian Empire. Its unique mix of Hellenistic and Roman architecture with Eastern decorative features attested "to the greatness of civilization", according to Unesco.
The video, posted on a website frequently used by IS, has a small silver lining for it shows the site suffering lesser damage than what it was initially reported.
In March, Iraqi officials said they had information suggesting Hatra and Assyrian 13th century BC site of Nimrud had been completely bulldozed by IS. UNESCO had described the flattening as a "war crime".
A few weeks later the report was disputed by an international association of archaeologists citing satellite imagery and local professional sources.
But Marc Lebeau, Belgian archaeologist and founder of non-profit Shirin (Syrian Heritage in Danger: an International research initiative and network), told IBTimes UK that sources on the ground in Mosul and Nineveh province had not confirmed the extent of the destruction.
The most recent satellite imagery from UNOSat via the UNESCO World Heritage Centre "do not reveal any massive human/mechanical presence, nor visible destruction" Lebeau added.
"While not minimising the destructive actions of the mentioned jihadist group and reminding the fate of the lamassû of Nergal's gate at Nineveh, the Jonas' Tomb in Mosul and other buildings of cultural value and religious importance, what already constitutes a major cultural crime, we insist on the necessary cross-checking of the information," a statement on Shirin website read.
Unesco confirmed to IBTimes UK that satellite images showed that Nimrud and Hatra had not been "completely razed to the ground" but added that it was difficult to tell what really happened.
"The images' resolution is really low so it's difficult to get a conclusive result. It's not clear whether damages have taken place to the site. We're in the process of analysing the images and comparing them to the previous ones taken at the site," said Giovanni Boccardi of Unesco's World Heritage Centre.
IS had previously released videos and images showing its militants blowing up ancient monasteries and razing the Ninawa museum in Mosul.