Militant jihadists Isis, also known as Islamic State (IS) are believed to have handed over control of the Yarmouk refugee camp in Damascus to another Islamist group linked to Al Qaeda, Jabhat al Nusra, before withdrawing.
An activist using the pseudonym Mustafa Ahmed based inside Yarmouk, the Damascus suburb which houses Palestinian refugees, told Channel 4 News: "Today there are no more IS militants inside Yarmouk. Most of the militants are at the frontline between IS and the Aknaf brigades in the south eastern part near the hospital."
The hospital at Yarmouk - six miles from central Damascus - was bombed by the Syrian regime last week when it reportedly became a base for IS militants. Yesterday the head of the UN Relief and Works Agency (UNRWA), Pierre Krahenbuhl, met some of the thousands displaced from Yarmouk in neighbouring Yalda amid fears a humanitarian catastrophe was unfolding.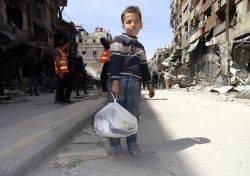 On entering Yarmouk, Isis issued a radio broadcast in which they said they were also Palestinian and Syrian rebels rather than foreign fighters. However there were still reports of atrocities against refugees, including beheadings. U.N. Secretary-General Ban Ki-moon said the refugees, caught between the Syrian forces and Isis, were trapped within "the deepest circle of hell."
"The IS fighters in the southern parts of the city are locals and not foreign fighters," said Ahmed. "They are former rebels who joined IS recently because of the siege of Yarmouk."
Ahmed continued: "Today an agreement has been signed by Jabhat Al Nusra and the relief workers in Yarmouk as well as to local leaders in which Jabhat Al Nusra vowed to secure any human aid convoy sent to the Yarmouk by the UN or other NGOs."
The militants have reportedly withdrawn to the nearby suburb Al Hajar al Aswad from where they entered Yarmouk on 1 April.