Yarmouk camp: Isis 'playing football with severed head' says Palestinian witness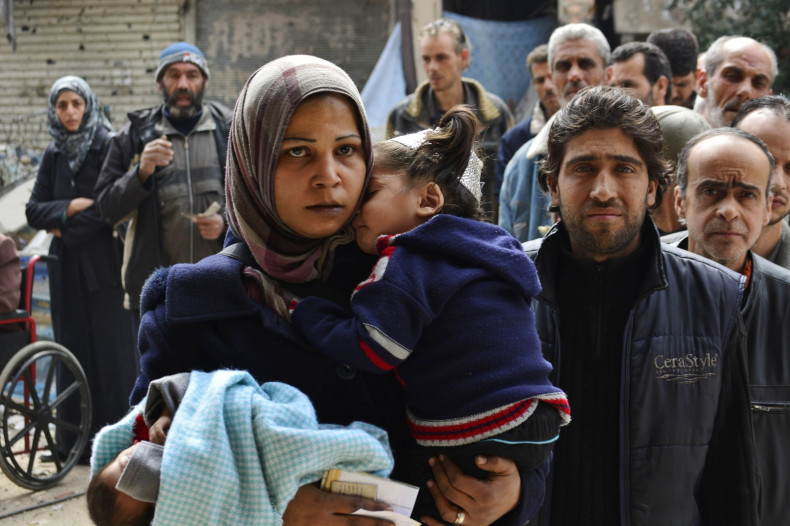 Palestinians fleeing the horrors of the Islamic State (Isis) jihadists who have seized the Yarmouk refugee camp in Damascus have recounted barbaric details of the extremist group's practices.
Residents of the camp who escaped to areas controlled by the Assad regime said they saw heads cut off and children killed in front of their parents. "We had heard of their cruelty from the television, but when we saw it ourselves... I can tell you, their reputation is well-deserved," Ibrahim Abdel Fatah, a 55-year-old refugee, told AFP.
The Yarmouk-based Jafra Foundation estimated that 400 families - around 2,000 people - fled the camp to Yalda, a neighbouring area which is also besieged by Assad forces, and 150 others escaped to regime-controlled areas.
Wesam Sabaaneh, who works for the NGO, told IBTimes UK that 18,000 Palestinian refugees are blocked in the camp south of the Syrian capital with no access to basic needs or medical supplies, trapped in their houses by the clashes and heavy shelling.
Another Palestinian refugee, the 16-year-old Amjad Yaaqub, told AFP that he saw IS members "playing with a severed head as if it was a football".
"Daesh [IS] came to my home looking for my brother who's in the Palestinian Popular Committees. They beat me until I passed out and left me for dead," he said.
On 7 April, IS militants reportedly executed a 12-year-old girl in front of her home. The victim was identified as Zaynab Daghastani according to Al Masdar news. Sabaaneh said the girl was killed by sniper fire.
Yarmouk has been surrounded by either rebel forces or the Syrian army loyal to embattled Assad since the beginning of Syria's civil war.
Hundreds had died from malnutrition and lack of medicine supplies even before the IS assault.
IS reportedly struck an unusual alliance with rival jihadi group Jabhat al-Nusra to wrestle control of Yarmouk from rebels loyal to Palestinian faction Hamas, which had been fighting against regime troops.
Among the groups fighting IS and Nusra are Jaysh al-Islam and Hamas-linked Aknaf Beit al-Maqdis, which said in a statement that it is "confronting the barbarian attack on the Yarmouk camp by the criminal Isis and in cooperation with Nusra".
The commissioner-general of the UN Relief and Works Agency for Palestine Refugees in the Near East (UNRWA) Pierre Krähenbühl said in a statement that the situation in Yarmouk is "more desperate than ever" adding adding that as of now it is "simply too dangerous to access Yarmouk".
Sabaaneh told IBTimes UK that Jafra Foundation's volunteers are inside the camp "but they cannot bring food and medicine or evacuate civilians. It's very dangerous for everybody to access the camp," Sabaaneh added.
"IS stole all food stores and medicines in Yarmouk camp that was reserved for Palestinian civilians. The two main hospitals in the area have stopped working because of lack of medical equipment. There's no electricity in these areas," he said.