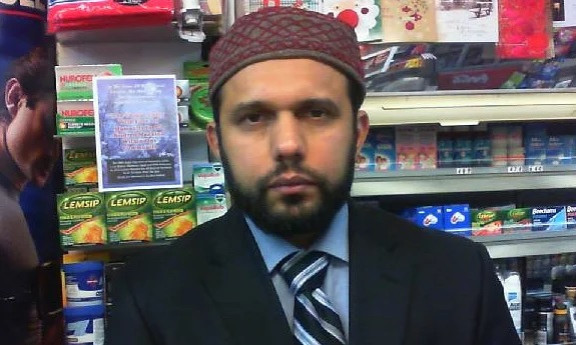 A Muslim extremist who killed a shopkeeper he accused of blasphemy has been justifying the murder in a number of recordings to his followers in Pakistan.
Tanveer Ahmed, 32, was jailed for 27 years for the murder of Asad Shah whom he stabbed outside his shop in Glasgow has been using a phone in prison to call a relative in England who posted audio clips of his rants on Facebook.
In one of the recordings, he said he called for the enemies of Islam to be eliminated and that "beheading is the only punishment for a blasphemer", the Times reported.
Since then, he has been banned from making calls but he can still send letters. He has a big following in Pakistan and his cousin, Sherbaz Munir, said that his family was proud of what he had done. "We believe that the killer of a blasphemer is a chosen person."
Ahmed, from Bradford, travelled to Scotland to murder Mr Shah, believing that he had committed blasphemy by claiming to be a prophet, with the Ahmadi sect.
Scottish Labour's deputy justice spokeswoman Mary Fee said: "There must be a full investigation into how Ahmed was able to make these recordings. The public and Asad Shah's family must have confidence he will no longer be able to spread hate."
Aamer Anwar, the Shah family's lawyer, said Ahmed should be stopped, telling the Times: "Not only has he murdered an innocent man, he continues to taunt the family from inside a Scottish prison with calls supporting terrorism."