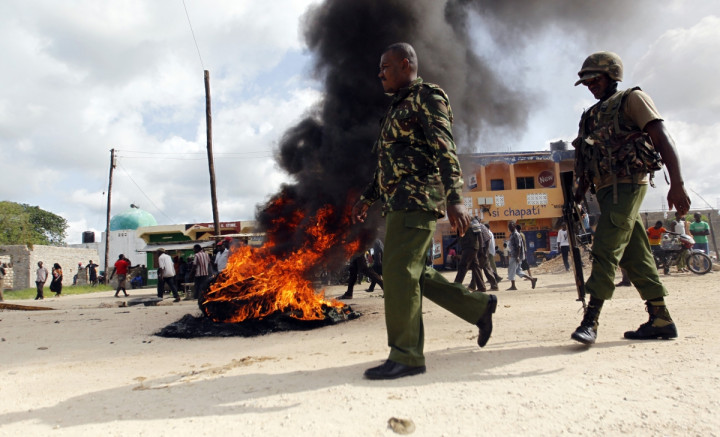 A number of Kenyan women are feared to have been kidnapped by gunmen who killed at least 60 people in two night attacks on coastal communities.
The BBC reports that at least 12 local women were kidnapped by gunmen who stormed the village of Majembeni, just a day after the nearby town of Mpeketoni was attacked.
Some 15 people were killed in the Majembeni raid, while at least 48 died 24 hours earlier as assailants opened fire on unarmed civilians.
"The style of killing is the same. They slit the victims' throats wide open or shot them several times in the head," said county commissioner Benson Maisori.
Somalia's Islamist militant group al-Shabaab has claimed responsibility for both raids, claiming they targeted government officials and Christians, but Kenya's president Uhuru Kenyatta has instead blamed local political leaders for the violence.
Witnesses said that in Mpeketoni gunmen went from door to door asking if men living there were Muslim and if they spoke Somali. Negative answers were followed by gunfire.
"They came to our house at around 8pm and asked us in Swahili whether we were Muslims. My husband told them we were Christians and they shot him in the head and chest," said local resident Anne Gathigi.
John Waweru, another resident, said: "My brothers who stay next door to me were killed as I watched. I was peeping from my window and I clearly heard them speak to my brothers in Somali and it seems since my brothers did not meet their expectations, they sprayed them with bullets and moved on."
A local police commander said that, as attackers arrived at the Breeze View Hotel in town, they pulled the men aside and ordered the women to watch as they executed them, saying Somali men were suffering the same fate at the hands of Kenyan troops in Somalia.
Kenyan forces have been fighting al-Shabaab in Somalia since 2011 as part of an African Union effort to oust the Islamist group.
Al-Shabaab has retaliated with deadly attacks in Kenya, including a raid at Nairobi's Westgate mall last September, when 67 people were killed.
In Majembeni, residents said gunmen picked their victims by name from their houses, lined them up in a street and shot them in the head at point-blank range.
Despite al-Shabaab claiming responsibility, President Kenyatta told the nation in a televised address that evidence indicated local political leaders inside Kenya were responsible for the massacres.
The attacks constituted "well planned, orchestrated and politically motivated ethnic violence against the Kenyan community", Kenyatta said. "This therefore was not an al-Shabaab attack."
"Evidence indicates that local political networks were involved in the planning and execution of a heinous crime," he said.
Kenyatta claimed police in Mpeketoni had advance intelligence about the attack but failed to take action. He said some officers have been suspended and will be prosecuted.
Update, 16:25 BST, 18/06/2014:
Kenyan authorities have denied reports that 12 women were abducted.
"There were no such abduction cases of women. What happened is that the attackers went from house to house picking men only. They weren't targeting women at all. They only seemed to target men alone," Kenya's police chief David Kimaiyo told AFP.