Israel will observe a "humanitarian ceasefire" in Gaza after nine days of rocket fire against militants.
The news comes just hours after four Palestinian children were killed by a shell as they played football on a beach.
A senior Israeli official told Reuters news agency that a six-hour cessation in fighting had been agreed by Israel after the proposal for a truce was made by the UN.
Gaza has been the target of nine days of deadly rocket and missile exchanges with militants. At least 213 Gazans have been killed in the Israeli raids since the start of the violence, many of them children.
Hamas, which earlier rejected an Egyptian-backed ceasefire, is yet to comment on the latest proposal.
Palestinian militants fired dozens of rockets in the first six hours of a failed ceasefire plan brokered by Egypt.
Their actions led to fresh strikes on Gaza, with the homes of senior Hamas leaders among the targets.
Israel, had earlier warned that the possibility of an Israeli ground invasion of the Gaza Strip is "very high," with ground troops being mobilised.
Israeli aircraft have struck close to 1,700 times in raids which the country claims are designed to stop rocket fire from Gaza.
Since July 8, more than 1,200 rockets have been fired by militants towards Israel, hundreds of which have been intercepted by the Iron Dome air defence system.
As the conflict escalated, Israel dropped thousands of leaflets, urging Palestinians living in northern and eastern parts of the territory to leave their homes.
17,000 people have fled the war torn region, many taking refuge in UN schools.
In an interview with BBC Arabic, Gen Mordechai said the civilians in Gaza can use the five hours of ceasefire to stock up on supplies and goods.
The truce will be in force from 10:00 to 15:00 (07:00-12:00 GMT) on Thursday. (17 July)
Meanwhile, Gaza's health ministry described the attack on four children as "cowardly", while the Israeli Defence Forces (IDF) claimed the deaths appeared to have been a "tragic outcome" of a strike aimed at Hamas militants.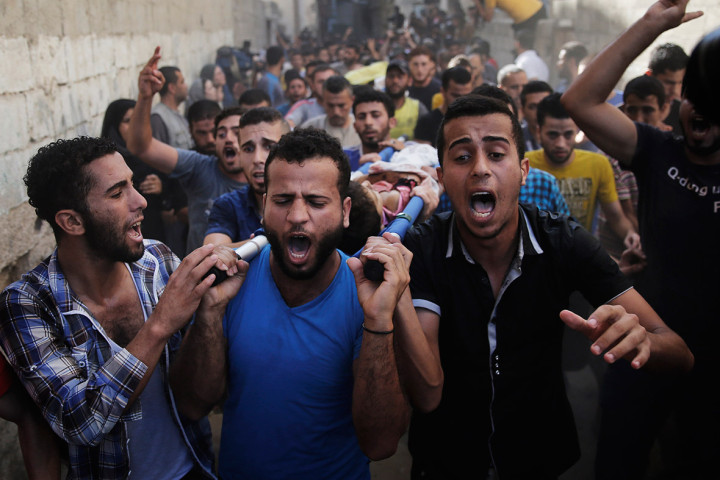 The four boys, named as Ahed and Zakaria Bakr, both aged ten, and two other boys from the Bakr family, both named Mohammad, aged 11 and nine, died in shelling from a nearby Israeli gunboat. Their bodies were draped in Fatah flags during their funerals this afternoon.
Promising a full investigation, an IDF spokesman added: "We have no intention of harming civilians dragged by Hamas into the reality of urban combat."
Leading human rights organisation Save the Children have warned that one fifth of those killed in the nine-day conflict have been children.