Wounded Palestinians can now flee the Gaza Strip as Egypt has opened its Rafah border crossing, allowing hundreds of people to escape the Israeli attacks.
Rafah is the only border through which Palestinians can exit Gaza.
Egypt notified the Palestinian Ministry of Interior in Gaza that the crossing would be opened at 9am on Thursday (10 July) for injured Palestinians and humanitarian cases.
According to Egypt's official Mena news agency, hospitals in north Sinai, which borders Gaza and Israel, have been placed on standby to receive the Palestinians.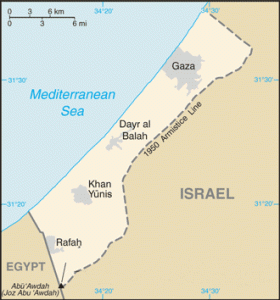 Egypt claims the border is usually closed for security reasons as its forces are fighting against islamist insurgents in Sinai.

Israel launched an aerial offensive on the Gaza Strip on Tuesday (8 July), saying it wanted to stop Palestinian islamist organisation Hamas from firing rockets into southern Israel.
The offensive is part of the Israeli Defence Force's (IDF) Operation Protective Edge, aimed at restoring calm in southern Israel.
The airstrikes were carried out in retaliation to the firing of 156 rockets into Israel from Gaza.
At least 75 Palestinians have died and more than 500 been injured since the beginning of the week.
Tensions in the region escalated following the murder of three Israeli youths in the occupied West Bank and the revenge abduction and killing of a Palestinian boy in Jerusalem in July.