Palestinian death toll is over 30 since launch of ground offensive.
One Israeli Defence Force soldIer killed. Investigation into possible friendly fire launched.
Netanyahu says he has "ordered IDF to prepare for wider op".
PA President Mahmous Abbas says Israel "must stop its ground operation".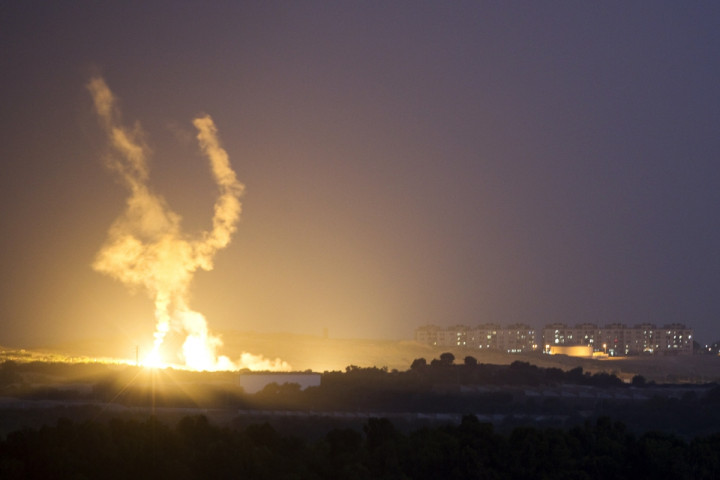 18:57 Live coverage of Israel ground invasion of Gaza ends here for today. For more updates please visit IBTImesUK.
18:45 IDF tweets:
18:30 Al-Akhbar English tweets:
17:53 According to analysts, Gaza miliants' rocket fire is down by at least 30 percent on its average high after ground operation began.
17:51 Photos continue to emerge of Israeli artillery firing into the Gaza Strip.
17:39 Reports are emerging that IDF tanks have shelled an anti-tank missile firing position in northern Gaza high-rise. 3 militants have reportedly been killed in the exchange.
17:31 An anti-tank missle has exploded near an Israeli tank. Three IDF paratroopers have been lightly injured.
17:12 Netanyahu thanked Obama for "US support in Israel's right for self-defense in Gaza and taking part in developing the Iron Dome."
17:02 Obama, in a press conference on MH17 plane crash, says that he spoke with Netanyahu on Gaza and reaffirmed strong support for Israel's right to defend itself. But said US deeply concern about risks of escalation.
16:58
16:48 268 people in Gaza have been killed since 8 July in Operation Protective Edge, most are civilians, according to the health ministry.
16:35 Reports that Hamas militants are retreating from their positions in Gaza as Israel's ground offensive escalates:
16:10
15:58 The IDF has prevented a suicide motorbike attack against its soldiers near the old international airport in southern Gaza.
15:56 Israel's Shin Bet intelligence agency claims that it has arrested a "rocket launching" squad near Khan Younis in Gaza.
15:45 According to the United Nations Relief and Works Agency, 40,000 Gazans have been displaced in the fighting with Israel into their shelters.
15:32 The IDF is yet to confirm the troop numbers around Gaza apart from saying the deployment includes "significant numbers". 50,000 reservists have been called up while 75,000 have been authorised by the government.
15:27 According to Sheera Frenkel of BuzzFeed, Israeli TV and radio stations are all stressing that Egypt is backing Israel's ground invasion of Gaza. "Sisi is with Bibi," she quotes.
15:04 CNN have removed the reporter who called Israelis - who were cheering air strikes into Gaza and threatened to destroy her vehicle - "scum" and moved her to Moscow to cover the ongoing Ukraine crisis after criticism.
15:01
14:45 Here is the form that the IDF makes press sign at the Erez Crossing to Gaza. It sbsolves IDF of responsibility for any harm caused.
14:20 Journalist Mohammed Omer tweets:
14:10 Investigative journalism Twitter account Mother Jones tweets:
14:00 The Palestinian death toll has reached 30 since the IDF launched its ground operation on Thursday evening.
13:30 The Erez crossing from Gaza to Israel is to be opened for 25 minutes, presumably to allow the departure of internationals as Israel's ground operation escalates.
13:19 Israel is looking to expand the current buffer zone of 500m into the Palestinian territory to 3km in order to locate and destroy tunnels dug by militants, according to the Guardian's Harriet Sherwood.
The Israeli military said that the tunnel network is "highly developed and continuously preserved" and constituted a "major threat" to Israeli security.
13:16 Riots have been reported at al-Aqsa mosque in Jerusalem. Israeli authorities are not allowing any Arabs under the age of 50 to pray there. Youths who slept in the mosque overnight to avoid the ban have clashed with Israeli police.
13:11 The Onion has taken a more satirical look at the conflict raging in the Middle East with an article entitled, Everyone In Middle East Given Own Country In 317,000,000-State Solution.
12:48 Shocking accounts coming from correspondents on the ground in Gaza. This from the Guardian's Peter Beaumont tops the lot.
12:41
12:38 IDF says it has discovered 5 tunnels from Gaza to Egypt since ground invasion began.
12:28 The Israel Foreign Ministry says that Turkish police's failure to protect diplomatic missions, following violent protests, is a blatant breach of diplomatic regulations.
12:14 Human Rights Watch's Peter Bouckaert says that Israel's 'knock on the roof' is inadequate when compared with the laws of war.
12:10 According to a Palestinian Liberation Organisation (PLO) official, Abbas' aims are three-fold amid talks with Middle Eastern leaders over the current crisis:
1st priority: end Gaza bloodshed; 2nd priority: end blockade on Gaza; 3rd priority: ensure Hamas/Fatah reconciliation continues.
12:05 Sky News' Tom Rayner suggests that Palestinian Authority President Mahmoud Abbas will hold discussions with Turkish PM Recep Tayyip Erdogan today before travelling to Bahrain and then on to Qatar.
11:46 Israeli military says it has killed more than 17 Gaza gunmen in clashes; another 13 have been captured and taken for interrogation.
11:30 Angela Merkel, the German chancellor, said there was a "new quality" to weapons used by Hamas against Israel and that countries coming under attack must be allowed to defend themselves, Reuters reports.
11:19 Gaza health ministry spokesman has said that Israel has shelled a hospital holding 400 children.
11:07 CNN has captured an airstrike in Gaza, after a 'knock on the roof', which killed an unknown number of children.
10:54 Israel is to evacuate the families of Israeli diplomats in Turkey following violent demonstrations, according to Haaretz' Barak Ravid. There are reports that protesters have attacked the Israeli consulate.
10:36 As the death toll rises to 264, reports are emerging that 3 of those were children killed by an Israeli tank shell.
10:34 "There is no guarantee for 100% success but we are doing everything to achieve the maximum," Netanyahu says on Gaza ground operation.
10:28 Netanyahu added that the IDF's primary target is Hamas' tunnel network and it could not tackle this "only from the air".
10:26 Israel is prepared to "significantly widen" its ground offensive against militants in the Gaza Strip, Prime Minister Benjamin Netanyahu has said.
10:22 According to the Palestinian Health Ministry, 264 Palestinians have been killed and 2000 injured since Israel's Operation Protective Edge began.
10:02 The IDF has released footage of its incursion into Gaza. The footage shows troops following a tank into the territory.
A commander says: "Your nation is behind you and the terrorists from Hamas and Palestinian Islamic Jihad are ahead of you. I have trust in you and I believe in your capabilities.
10:01 According to Palestinian health officials, 20 Palestinians have been killed since the IDF's ground offensive began.
10:00 Welcome to IBTimes UK's live coverage of the ongoing Gaza crisis. Stay here for updates on new developments, reaction and analysis.