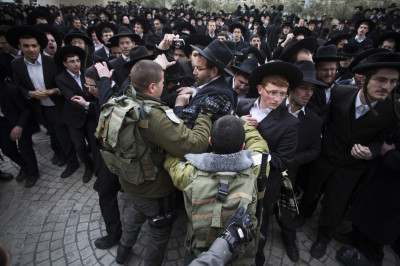 Thousands of ultra-Orthodox haredi Jews have rallied across Israel to demand the release of a young haredi student who was arrested for dodging the draft at the Israeli Defence Forces.
In Jerusalem, 400 ultra-Orthodox Jews clashed with police near the entrance of the city after attempting to break through the security buffer.
Protesters threw bottles and firecrackers at security officials. They were rebuffed with water cannons and 15 were arrested.
In Ashdod, eight people were arrested after attempting to attack a policeman and two officials were injured after demonstrators hurled stones at them. Other protesters near Modiin were removed by police.
A major highway in central Israel was blocked by about 2,000 protesters.
According to the Times of Israel, the leader of the Jerusalem protest, David Zicherman, urged the ultra-Orthodox to start a civil disobedience movement and stop paying taxes.
"You are pushing us into a corner," he said of the government. "We will start a war with the State of Israel, and it will burn like wildfire. We, Holocaust survivors, are now encountering a spiritual Holocaust."
"They will fail in their attempt to lead us to annihilation," he warned. "We shall not compromise nor negotiate."
Israeli men and women are usually enlisted into the army at the age of 18 – except for ultra-Orthodox Israeli men, who were mostly exempt from army.
However, in July 2012 the Tal Law, which exempted ultra-Orthodox men from the national service, was declared unconstitutional.
The exemption was regarded with resentment by Israel's secular majority.
Members of the Knesset were forced to draft a new legislation that would conscript ultra-Orthodox into the army.
The new system that would gradually reduce the number of exemptions is waiting for parliamentary approval.