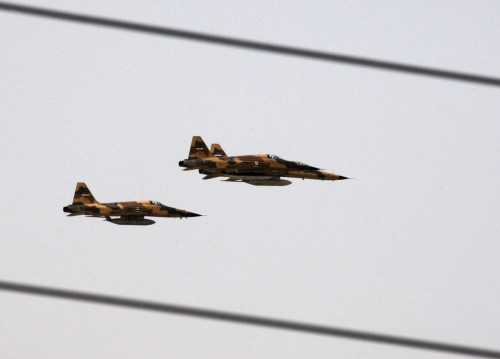 US and Greek authorities foiled an attempt by Israeli-based arm dealers to smuggle spare parts for a fighter jet to Iran via Greece in violation of an international embargo, a newspaper has revealed.
Two separate shipments containing replacement parts and ammunition for F-4 Phantom aircraft were seized by Greek officials in December 2012 and April 2013, Kathimerini newspaper reported.
The daily said it had access to a probe carried out by the Homeland Security in the US in cooperation with the drugs and weapons unit of Greece's Financial Crimes Squad.
According to the probe, both cargos originated from the Israeli town of Binyamina-Giv'at Ada, about 60km north of Tel Aviv.
They were shipped to Greece by courier, but investigators believe the final destination was Iran, as Tehran has a large fleet of F-4 Phantoms.
Containers loaded with spare parts for the jet fighter were received by a phoney company registered under the name Tassos Karras SA in Votanikos, near central Athens.
A contact number for the company belonged to a British national residing in Thessaloniki who could not be immediately traced, Kathimerini reported.
An Athens court ordered the seized cargo be handed to US authorities in November.
Sanctions against Iran were imposed by the US after the Islamic revolution in 1979. The embargo was later adopted by other nations and expanded in 1995. The UK has had a national arms embargo in place on Iran since March 1993.