More than 100 Palestinians were injured on Thursday (27 July) when Israeli forces fired tear gas, stun grenades and sound bombs on them on their return to al-Aqsa mosque in Jerusalem's Old City.
The worshippers re-entered the holy site, known to Jews as the Temple Mount, for prayers after about two weeks of protests that forced Israeli authorities to lift all security arrangements at the mosque.
The metal detectors were removed overnight on Wednesday while the newly installed railings and scaffolding with camera installations were cleared early on Thursday. The worshippers returned to the mosque after a go-ahead from the Islamic Waqf authority, which administers the mosque compound.
The unrest occurred when Palestinians gathered at the mosque compound insisted that Israeli authorities also open Bab Hutta, one of the gates that remained closed and under Israeli forces' control even after removal of all other security measures.
Israeli security forces gave in to their demand, but followed the worshippers in from the Bab Hutta gate and then fired stun grenades, sound bombs and tear gas at them that left around 113 people injured, Al Jazeera quoted the Palestinian Red Crescent as saying.
Raed Saleh, a resident of occupied East Jerusalem, told the channel that re-entering the mosque compound on their own conditions was a victory for all Palestinians. Thousands of Palestinians had gathered on Thursday morning at the mosque to re-enter the holy site for prayers and celebrate their victory.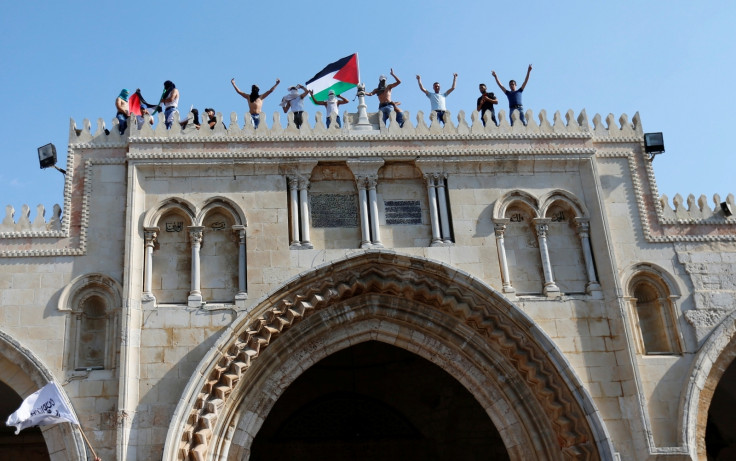 "We never saw this kind of win for our people," he said. "People are coming from everywhere just to support us in this occasion.
"The Israeli government will now understand that Palestinians from Jerusalem will not accept everything they [Israelis] will tell them. We control ourselves. No one is controlling us."
Meanwhile, the Arab League has urged Israeli authorities from taking any such steps in future that could fuel religious tensions in the region.
"Israel's withdrawal from its provocative and illegal actions solves the crisis they themselves created," Ahmed Aboul Gheit, Arab League secretary-general, reportedly said at an emergency meeting of Arab foreign ministers on Thursday.
"Dealing with Islamic sanctity with such imprudence poses a real threat of igniting a religious war, because no Muslim in the world accepts tarnishing al-Aqsa or its closure in the face of the worshippers or placing it under Israeli control," he added.