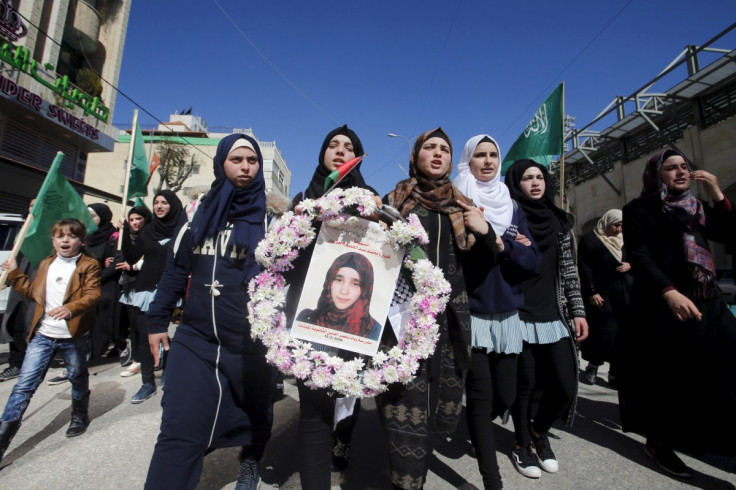 An Israeli Border Police officer shot and seriously wounded a 14-year-old girl who allegedly tried to stab an officer in Hebron. Earlier on the same day (Sunday 14 February) Israeli military personnel shot and killed a Palestinian man who was holding a knife.
Yasmin A-Tamimi, 14, a resident of Hebron, allegedly attempted to stab a Border Police officer. One of the officers shot her, seriously wounding her. The incident occurred near the Cave of Patriachs in Hebron, where a 17-year-old girl was shot and killed by Israeli soldiers on Friday. A-Tamimi was taken to Shaare Tzedek Medical Cente in Jerusalem. Her condition was described as "serious".
In a statement, Israel Police said: "A Palestinian woman arrived at the Border Police post near the Cave of the Patriarchs, drew a knife, tried to stab one of the officers at the roadblock and he fired at her."
On Saturday, Israeli security personnel near the Cave of the Patriarchs shot and killed Kilzar Owaiwi, 17, who had allegedly attempted to stab a soldier.
Third Palestinian killed in a day
A few hours earlier the Israeli news website Haaretz reported that a Palestinian man was killed at a checkpoint in south-eastern Jerusalem. The man is reported to have approached Israeli military police soldiers while wielding a knife. One of the soldiers shot the man, injuring him. He later died of his wounds. No other people were hurt in either incident.
The two attacks are the second and third to have occurred on the same day. Earlier in the morning, Israeli soldiers killed two 15-year-old boys, claiming that one of the children had fired a rifle at them.
The attacks are the latest in the daily, seemingly random, assaults made by individual Palestinians on Israelis since the beginning of October. The news media has dubbed the attacks a 'Knife Intifada', and fears are growing in Israel that this marks a prolonged period of intense violence, a Third Intifada.
The first two Intifada – armed uprisings by Palestinians against Israeli occupation of the West Bank and Gaza Strip – ran from 1987-1993, and the second began in 2000 and ended in 2005.