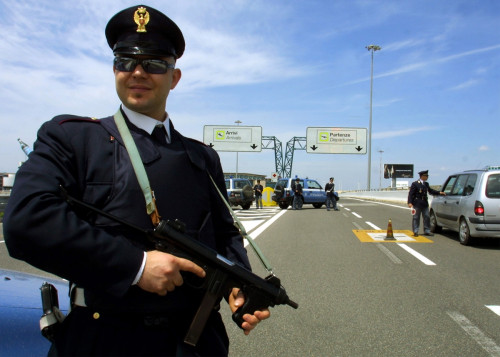 Italian authorities have launched a manhunt for a convicted Mafia mobster who was spectacularly freed by gunmen near Milan.
Detectives chasing Domenico Cutrì, 32, grilled his mother after she took her other son, Antonino, 30, to a local hospital suffering gunshot wounds which proved fatal.
"A stranger rang my doorbell and told me Antonino was sick, he was wounded," the woman told authorities, according to Ansa news agency. "I didn't ask why; no one ever tells me anything."
Antonino was shot by police as he led a group of at least four gunmen in an attack on a police convoy taking Cutrì to a court hearing in the northern town of Gallarate.
The woman said her younger son had been obsessed by the idea of freeing his older brother since Cutrì was sentenced to life imprisonment for murder in 2012.
"To help Domenico evade was a fixation to Antonino," she said. "He even signed up for a helicopter pilot training course."
Two policemen reported minor injuries in the gunfight that took place just outside the court's entrance.
Antonino and his accomplices managed to spring Cutrì from the security van and flee aboard a black Citroen C3.
Police believe the commando then drove to the village of Cuggiono, where Cutrì's mother lives, and picked her up.
"My son Antonino was on the passenger seat with his feet on the dashboard: he was bleeding, his eyes were half-closed and he didn't speak," she said.
The woman and her dying son were then dumped outside a local hospital. The black Citroen, which police said was a stolen car, was found parked nearby.
Police all across the Mediterranean nation are on the lookout for the gang and set up vehicle checkpoints particularly in the area surrounding the northern province of Novara, Corriere della Sera newspaper reported.
Cutrì, allegedly an affiliate of the 'Ndrangheta, a mafia group with headquarters in the southern region of Calabria, was serving a life term over a murder committed in the Novara area in 2006.