Two populist parties have promised to scrap a vaccination law ahead of the Italian general election in March.
The far-right Northern League party and the Five Star Movement (M5S) have both proposed scrapping the law which states that children cannot enrol in a creche unless they have been vaccinated against measles and nine other infectious diseases.
Parents who do not get their child vaccinated can be fined up to €500 (£445).
The proposal comes ahead of the general election on 4 March when the two parties will go up against the centre-right coalition in power.
But the pledge sparked outrage after a deadly measles outbreak in Italy last year, which infected nearly 5,000 people and killed four, was blamed on the anti-vaccination movement.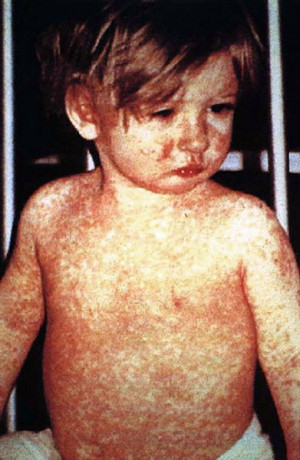 In the first six months of 2017, 3,232 cases of measles were recorded in the country, compared with 478 in the previous year.
In June, a six-year-old boy died from the disease. His doctor confirmed that he had not had the measles, mumps and rubella (MMR) jab.
Italy's measles immunisation rate of 87% is much lower than the 95% threshold recommended by the World Health Organisation (WHO).
This week, Northern League leader Matteo Salvini said the MMR jab should be optional. "Vaccinations yes, obligation no," he told reporters.
M5S's leader, Luigi Di Maio, echoed that position. In the past, M5S has highlighted what it called the dangers of vaccinations.
"Mass vaccination is a gift to multinational pharma and it is the furthest thing there is to an appropriate approach," a party statement in October 2015 read.
When M5S MPs entered the Italian parliament in 2009, one of their draft legislations concerned the rejection of vaccinations for public service employees.
Italy's former prime minister, Matteo Renzi, said he supported the law as it stands that all children should be vaccinated.
"You don't mess around with vaccines. The health of our children is at stake, not an extra [percentage] point at the polls. We are on the side of science, research and medicine and won't turn back," he said.
Italy is not the only European country struggling to control an outbreak. Measles has been spreading across Europe due to a drop in immunisation in several countries including France, Germany, Poland, Romania and Ukraine.
Measles cases soared by over 50% across Europe in the first six months of 2017, according to the European Centre for Disease Prevention and Control.