Italian senate accepts diluted civil union bill allowing for same-sex partnerships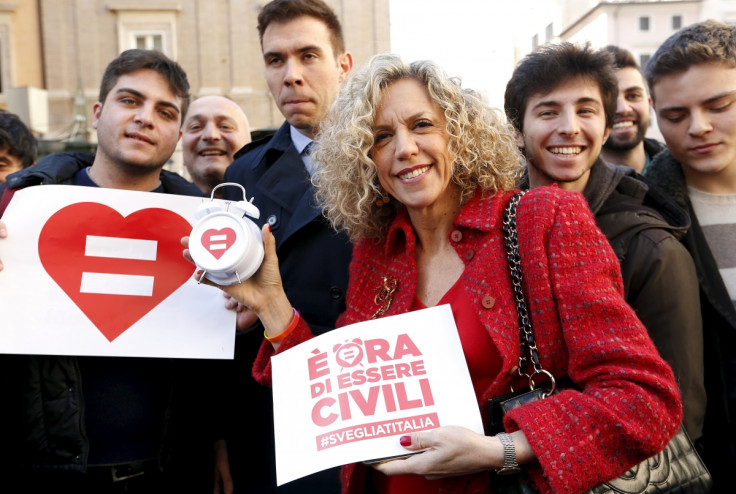 The Italian Senate has approved a bill allowing civil unions for same-sex and heterosexual couples. Despite the landmark ruling in the overwhelmingly Catholic country, critics say that the bill does not go far enough as gay adoption is still outlawed.
The move has been the result of extended pressure from both Italian citizens, who took to the streets in their tens of thousands in January demanding legal recognition for same-sex couples, and the European Court of Human Rights. In 2015 the ECHR ruled the nation violated human rights by failing to offer enough legal protection for gay couples.
Italy is the only major Western European country with no civil partnerships or gay marriage. And the hotly-contested motion was backed by a 173-71 vote on Thursday 25 February after a provision allowing gay adoptions and other clauses was dropped - the lower house still needs to confirm the bill.
Italian Prime Minister Matteo Renzi has promised the reforms since coming into power, and hailed the vote as "historic". "Hope has won against fear. Courage has won against discrimination. Love has won," he wrote on his Facebook page.
But the divisive issue of gay adoption provision split a number of lawmakers with gay rights groups saying that the new bill does not protect children.
"This text once again does not take into consideration children who need definite laws and protection," Flavio Romani, president of gay rights group Arcigay, said to Reuters. "The law that has come out of all this is lacking its heart," he added.
In Italy a small number of municipalities allow local civil unions but there is a total ban on same-sex marriage.
Included in the new bill homosexual and heterosexual couples within the new partnerships have the right to receive a deceased partner's pension, the right to take a partner's name, inheritance rights and next-of-kin rights in medical emergencies. But couples signing up to the partnership will not be required to promise to be faithful to eachother.
Opposing adoption for same-sex couples Interior Minister Angelino Alfano, who leads the New Centre Right party (NCD), said Italy had "prevented a revolution that went against nature" by denying gays scope for adoption.
© Copyright IBTimes 2023. All rights reserved.