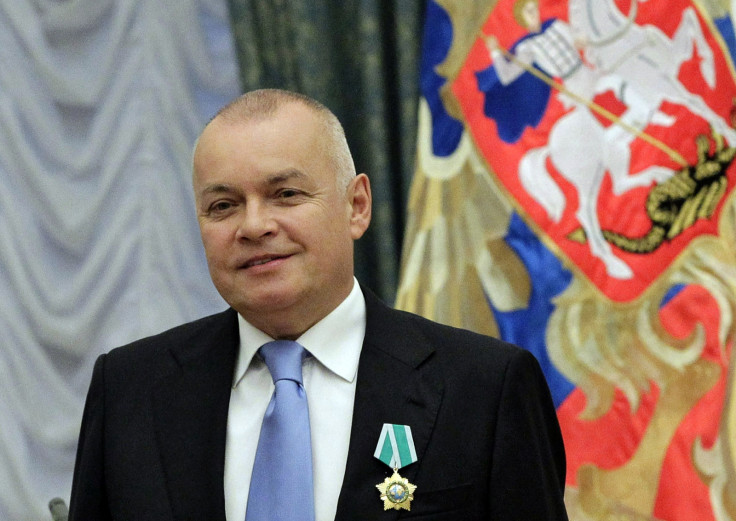 Vladmir Putin propagandist Dmitry Kiselyov, who infamously declared Russia's gay propaganda laws "do not go far enough", has performed a U-turn, declaring his support for same-sex civil partnerships in a state TV broadcast.
Commenting on pictures of the White House lit up with the rainbow flag of the LGBT movement, the head of Russian state news network Rossiya Sivodnya said on the Vesti Nedelyi programme: "In my view, it becomes a subject to discuss from time to time: the existence of the LGBT community is a fact.
"And you could figure out how to make life easier for adults if they want to take on, and on paper, the obligation to take care of each other. Love works wonders."
Kisyelov, who previously called for the internal organs of homosexuals to be burnt rather than used for transplants, stopped short of advocating gay marriage though.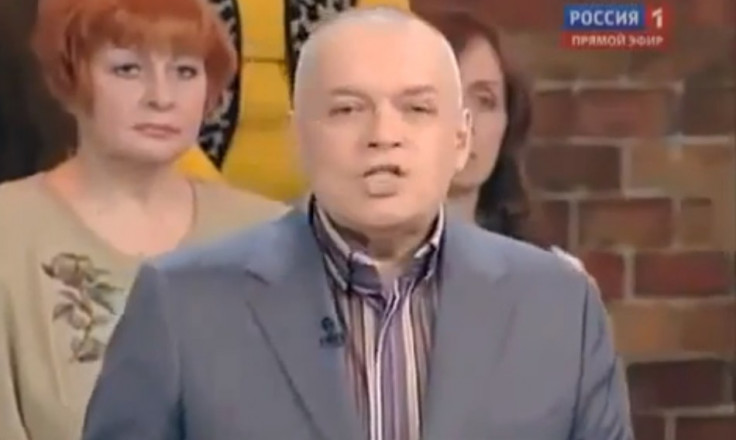 "Marriage is Russia is the union of a man and a woman," he declared.
"A civil union is a different story," he continued, and cited the example of western European countries such as France and the Netherlands where there is a civil union contract, affording gay couples legal rights. However, Kiselyov went on to condemn gay rights parades. In May, police broke up a gay pride demonstration in Moscow, and anti-gay activists attacked demonstrators.
The US Supreme Court decision last week to legalise gay marriage has stirred debate in Russia. Notorious homophobe and St Petersburg lawmaker Vitaly Milonov called for Facebook to be banned after the social networking giant offered a tool allowing users to include the LGBT rainbow flag over their profile picture.
Conservatives imposed the Russian tricolour on the pictures of Russians who had selected the option.
Russian Orthodox church spokesman Vsevolod Chaplin warned that the US is trying to "steal your soul" after it adopted the legislation.
Russian senator Konstantin Dobrynin, though, called for greater acceptance of Russia's gay community, and the adoption of the "don't ask don't tell" policy for homosexuals serving in the armed forces.
Russia's gay propaganda laws, passed in 2013, made it a criminal offence to distribute information in support of "non-traditional sexual relationships" to minors.
The bill met with widespread criticism in the West, and LGBT rights groups in Russia said there has been a surge in homophobic attacks since they came into force.
Campaigners called for Kiselyov to be sacked from his role on Russia 24 after his remarks on burning the organs of homosexuals surfaced, but Kiselyov denied he was a homophobe.
"I'm not a homophobe. Lots of my friends are gay," he told the Izvestia newspaper.
"It is simply global practice, as followed in the US, the European Union, Japan, and Arab countries. Practically everywhere except Russia," he said, citing US laws banning organ donations from men who have had homosexual relations in the past 20 years.