Italy migrant tragedy: 1 man dead as 2,800 people are rescued in just 2 days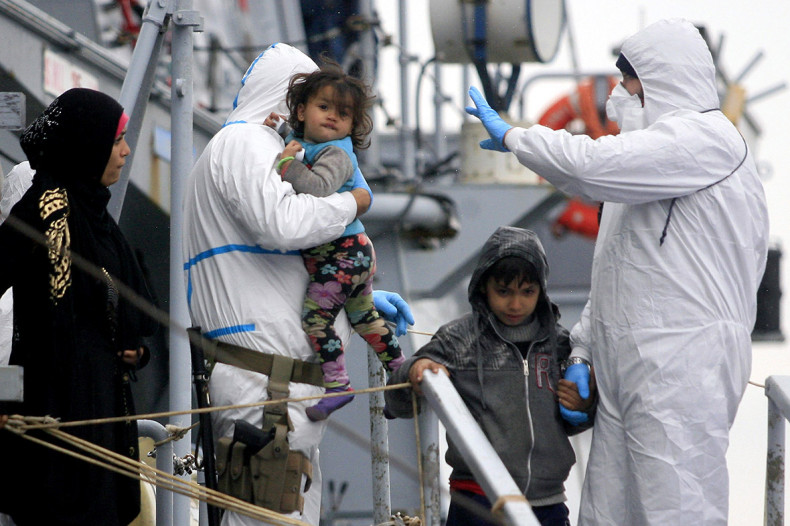 A man has been found dead in one of many unsafe, overcrowded boats off the Italian coast, while some 2,800 migrants were rescued on 11 and 12 April.
The male victim from Sub-Sahara, who is thought to have paid between $400 and $500 for the crossing, may have been suffocated but authorities still need to investigate the death.
Flavio Di Giacomo, the Rome spokesperson for the International Organisation for Migration (IOM), told IBTimes UK: "Some Africans are forced to stay in the haul of the boat, which is a place without windows, where they unfortunately may breathe and [are] asphyxiated by the fumes of the engine," he explained.
This was the second weekend in a row that large numbers of migrants were rescued in the Channel of Sicily as calm seas have seen many attempting the crossing, with total numbers of arrivals reaching over 15,000 since the beginning of 2015.
Seaborne operations saved some 2,000 migrants during the first weekend of April. The majority of these migrants had departed from Libya and are sub-Saharan Africans, including many Eritreans and Syrians.
Many of them have been brought to reception centres in the Sicilian towns of Augusta, Messina, Porto Empedocle and Calabria. Around 700 have sheltered on the Italian island of Lampedusa, IOM officials said.
The Italian Coast Guard and the Italian Navy carry out the majority of operations in international waters, while the EU-led Triton operation is less involved as it patrols the area within 30 miles of the Italian coast, far from the area where boats in distress actually need to be helped.
Migrants trapped inside connection houses
According to Di Giacomo, arrivals decreased during the month of March because of harsh weather conditions at sea.
"Some Africans are forced to stay in the haul of the boat, which is a place without windows, where they unfortunately may breathe and asphyxiated by the fumes of the engine."
- Flavio Di Giacomo
"That's why many of the migrants who have arrived over the weekend had been waiting to depart for over a month inside so-called 'connection houses' in departure points of Tripoli, Misrata and Zuwara in Libya," he said.
After paying for the sea crossing, migrants are brought to these facilities - such as apartments or garages - where they are held for days or weeks before being brought by truck to the beach for the embarkment.
According to testimonies, hundreds of migrants often become victims of brutal violence and abuse perpetrated by the smugglers in these houses, which are typically no larger than 100 or 150sq m and only provided with one toilet or two.
"Women may be raped. Even when migrants have already paid, smugglers may ask for more money and beat them," Di Giacomo said.
Slight drop in migrant numbers
Earlier in April, the Italian Ministry of Interior released new data on migrant arrivals through to the end of March 2015.
In the first three months of the year, Italy registered a total of 10,165 migrants arriving on its shores, which is a slight fall in the number of arrivals recorded during the same period in 2014, mainly due to the weather.
Gambians made up the largest group of migrants (1,400) followed by Senegalese (1,180), Somalis (1,100) and Syrians (1,060), Di Giacomo explained.
Of the total number of migrants rescued, more than 600 were unaccompanied children. A further 280 children were aboard the ships, mostly young Syrians travelling with their families.
In mid-March, Fabrice Leggeri, the executive director of Frontex, European Union's border agency, warned up to one million migrants could head to Europe from Libya amid collapsing security in the northern African country.
Leggeri expects asylum seeker crossings to rocket in 2015 and urged EU governments to ready themselves to "face a way more difficult situation than last year".
Migration in numbers (as at 31 March 2015)
Total migrants: 10,165
613 Unaccompanied children
289 Accompanied children (the majority being children of Syrian families)
1,400 Gambians
1,187 Senegalese
1,100 Somalis
1,066 Syrians