African migrants are risking their lives sailing across the treacherous Mediterranean Sea to reach connecting European cities before travelling to the UK.
Migrants from as far away as Mali and Eritrea sail to Italy and Greece before making their way to Germany and France, where many attempt to access the UK via Calais.
Moroccans and Algerians sail the short distance to Spain while Turkish migrants use Greece and Italy as their gateway to Europe.
Journeys are often fraught with danger - more than 3,000 people drowned in the Mediterranean en route to Europe in 2014 and there have already been 1,000 deaths in 2015.
The influx of migrants via the Mediterranean Sea has been exponentially rising, with 220,000 migrants crossing last year.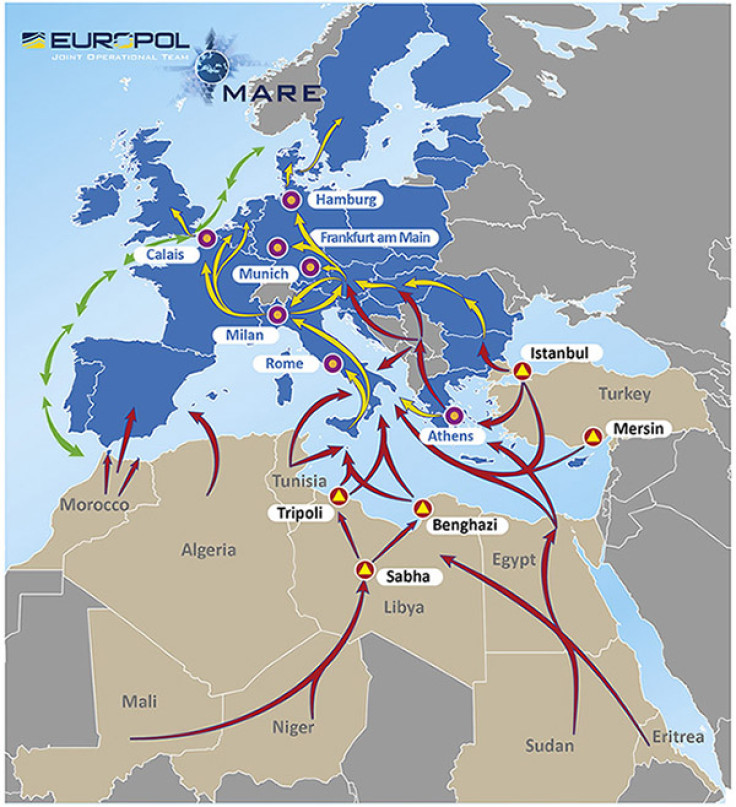 European crime agency Europol says organised criminal groups are facilitating the transport of the migrants across the Mediterranean - with Greek authorites last week dismantling one group that had pocketed at least €7.5m (£5.4m) from smuggling and related criminal activities.
Investigators say the gangs are also linked to human trafficking, drugs, firearms and terrorism and that there are currently two suspected members in the UK who are thought to have ties with seven organised crime networks. Of the countries affected by the gangs, Libya has the most suspects with links to gangs, with 144 thought to be in the north African country.
To combat the traffickers, 13 European Union nations, including the UK, have signed up to JOT Mare, an operation that will draw on Europol intelligence and member states' capabilities to carry out coordinated probes against the gangs.
"We all know that today's situation in the Mediterranean is particularly worrying. We are confronted with an unprecedented increase of people embarking on dangerous journeys to escape wars, seeking international protection or simply looking for a better life.
"To put it in numbers, over 220.000 migrants entered Europe in 2014 compared to 60,000 in 2013. And unfortunately, in many of these journeys we also witnessed the tragic loss of lives: in 2014 there were more than 3,000 deaths; while in 2015 there have already been more than 1,000 deaths.
"Therefore, doing more and better to counter smuggling is a priority for the European Commission and it will also be one of the main pillars of the European Agenda on Migration that we will adopt in May this year."