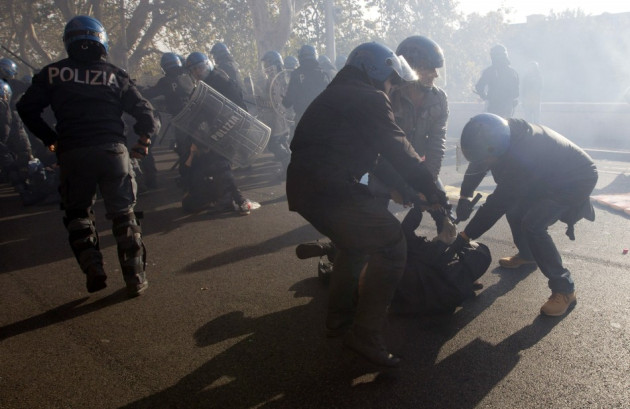 Italian newspaper La Repubblica posted a video showing a riot policeman hitting a protester in the face with a billy club while the man is lying unarmed on the floor, during the anti-austerity protests Rome.
The protester is being dragged away by two other policemen when a third security officer comes up and hits him violently several times in the face.
One of his colleagues seems to try to stop the policeman's blind fury.
The policeman's violence triggered widespread outrage and indignation on social media.
The incident happened during the clashes between police and anti-austerity demonstrators on the Tiber river banks.
Protesters threw stones and bottles to security forces that fired back with teargas and deployed armoured vehicles. At least 50 people were arrested
Parked car were damaged, trash bins se ablaze and road signs turned as some protesters turned violent in Italy's capital.
Italian media describer the clashes as 'Guerrila Warfare'.
Episodes of violence were reported also in other Italian cities, as demonstrations against spending cuts and tax hikes took place across the nation.
"Violence risks dimming the true meaning of an extraordinary day," Italian Democratic Party primary elections candidate Nichi Vendola tweeted.
The rallies were part of the 'European Day of Action and Solidarity,' which saw protesters rallying also in Spain, Portugal, Greece France and Belgium.