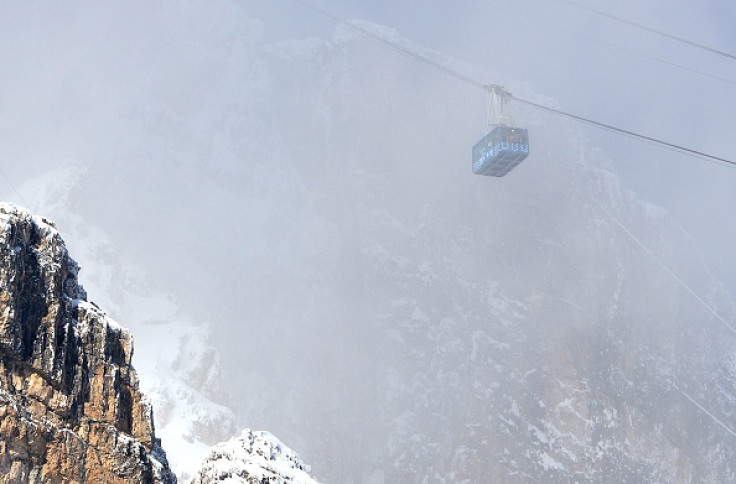 An estimated 200 skiers were left stranded in cable car cabins in the Italian Dolomites on 5 March, with winds gushing up to 130 kilometres (70 miles) an hour.
The Ciampinoi cable car cabins, located in the tourist favourite Val Gardena resort, came to an unexpected halt when a huge tree fell over onto the cable, said local officials.
Fearing the cable could snap, mountain rescue experts and firefighters were called on for help and lowered onto the cabins from helicopters. Skiers were eventually evacuated from near 20 cabins with the help of ropes without any serious injuries, reported AFP News.
The news comes as stormy weather wreaked havoc across northern Italy claiming at least two lives. A woman was reportedly crushed by a falling tree in Urbino in the Emilia Romagna region and a man died while driving when his car was hit by a rockfall near Lucca in Tuscany.
Several schools were shut down in Tuscany and a 17th-century church belltower at Cortona partially collapsed with winds of up to 150 kilometres an hour were registered. Winds of up to 180 kilometres (112 miles) an hour were also reported through the Riviera region of Liguria.
Meanwhile, local authorities closed public spaces and banned motorbikes in some areas of the port city of Genoa.
Last year, a mother and father died when a cable car plummeted 100 feet into woodland, in a crash that also left their baby seriously injured at a Swiss Alps resort in Alp Baerlaui.
According to Swiss police, the tragedy happened when the family took a ropeway designed for transporting goods and equipment.