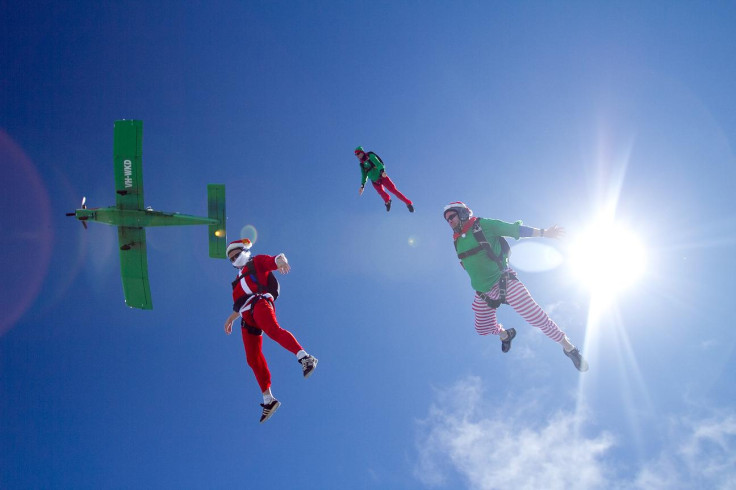 Cruising at 14,000ft in a red suite is usually reserved to Santa Claus. However, inspired by Father Christmas, 155 daredevils donned the get-ups to skydive from that height – smashing a world record in the process.
Australian activity firm RedBalloon rallied guests from reality TV shows Survivor and Bachelor as well as plucky members of the public to achieve the feat of the most tandem skydives in an eight-hour period.
Each of the 155 participants hopped into a bright red Santa suit before being loaded into a small plane.
They were then strapped to a skydiving instructor and completed the jumps, shattering the previous record of 94 jumps.
Bachelor contestant Keira Maguire was the official participant to break the record, jumping at number 95, and overcoming her fear of heights in the process.
She was joined by other Bachelor contestants Kiki Morris, Olena Khamula and Noni Janur.
Guinness World Records officials marked a number on each skydivers' hand to help them keep track of the jumps. The event took place in Wollongong, near the New South Wales city of Sydney.
Of those to take part was RedBalloon chief executive Nick Baker, who said he was very pleased with event, particularly overcoming difficult wind conditions.
"We're absolutely thrilled at the outcome of the attempt and to have achieved another Guinness World Records title," he said to Daily Mail reporters.
"We broke the Guinness World Records title for the world's largest surf lesson last year and had such a blast that we wanted to do something even more thrilling this year."
The event raised A$5,000 (£2,925) for cancer charity Camp Quality.