J.K. Rowling blasts John Niven for calling Theresa May a 'whore' on Twitter
Harry Potter remained staunch in her defence of British Prime Minister.
Author J.K. Rowling did not mince her words when laying in to a Twitter follower after they branded British Prime Minister Theresa May a "whore" during a political online rant.
Over a series of 14 tweets, the Scottish scribe, 51, who is behind the hit Harry Potter series of books, wrote: "Just unfollowed a man whom I thought was smart and funny, because he called Theresa May a whore.
"If you can't disagree with a woman without reaching for all those filthy old insults, screw you and your politics.
"I'm sick of 'liberal' men whose mask slips every time a woman displeases them, who reach immediately for crude and humiliating words associated with femaleness, act like old-school misogynists and then preen themselves as though they've been brave.
"When you do this, Mr Liberal Cool Guy, you ally yourself, wittingly or not, with the men who send women violent pornographic images and rape threats, who try by every means possible to intimidate women out of politics and public spaces, both real and digital."
She also went on to highlight the recent abuse aimed at other female politicians namely Diane Abbot and Ruth Davidson.
"C**t, whore and, naturally, rape. We're too ugly to rape, or we need raping, or we need raping and killing," she fumed.
"Every woman I know who has dared express an opinion publicly has endured this kind of abuse at least once, rooted in an apparent determination to humiliate or intimidate her on the basis that she is female.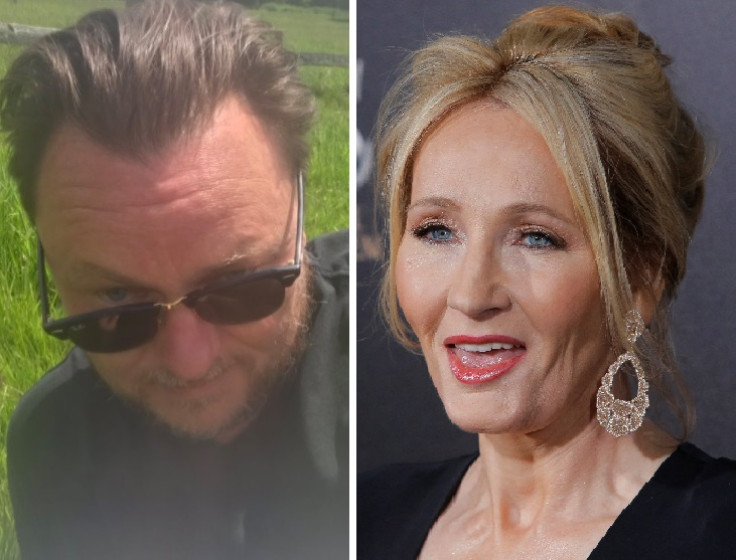 "If you want to know how much fouler it gets if you also happen to be black or gay, ask Diane Abbot or Ruth Davidson.
"I don't care whether we're talking about Theresa May or Nicola Sturgeon or Kate Hooey or Yvette Cooper or Hillary Clinton.
"Femaleness is not a design flaw. If your immediate response to a woman who displeases you is to call her a synonym for her vulva, or compare her to a prostitute, then drop the pretence and own it – you're not a liberal."
Concluding: "You're a few short steps away from some guy hiding behind a cartoon frog,"
J.K. – full name Joanne Rowling – had initially kept the perpetrator's identity anonymous until he outed himself on the micro-blogging site.
Tweeting her directly, Kill Your Friends author John Niven wrote: "My bad," followed by a kiss.
His original offending tweet had read: "May 'our friends and allies in the DUP'. Straight face. The lot. The f*****g balls on this whore."
On the day of the election, Niven shared a video of him setting fire to tabloid newspapers which had supported May. The video caption read: "This morning I reignited the British spirit with the newsagents entire stock of Suns and Daily Mails."
Rowling has a reputation for not holding back on Twitter previously hitting back at the New York Times after a tweet declaring that Britain was "reeling" from the recent series of terror attacks.
She also got into a very public Twitter spat with Piers Morgan when he disagreed with her views following a Donald Trump TV debate.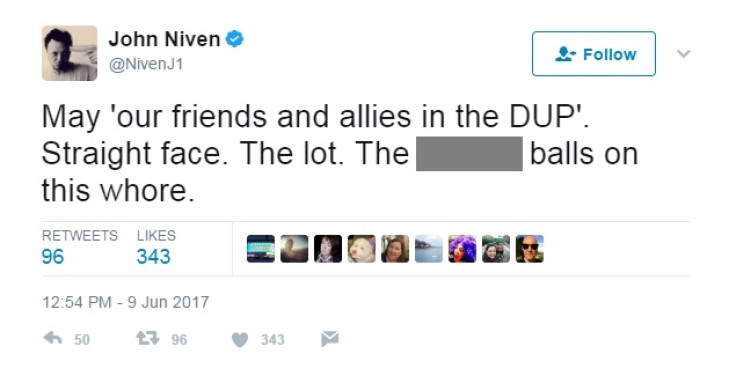 © Copyright IBTimes 2023. All rights reserved.