Piers Morgan appeared to have finally met his match when he took on Harry Potter author JK Rowling in an online war of words.
Throwing the first punch, Rowling, 51, tweeted: "Yes, watching Piers Morgan being told to f**k off on live TV is 'exactly' as satisfying as I'd always imagined."
Morgan, also 51, hit below the belt when he replied: "This is why I've never read a single word of Harry Potter."
"Because you had a premonition that one day the author would roar with laughter at seeing you called out for your bulls*** on live TV?" She countered.
Refusing to back down, Piers replied: "Everything I said was factual. If you think screaming 'F*** OFF!!!' at me changes that, then you're mistaken."
The incident they are referring to happened last night (10 February).
The controversial Good Morning Britain (GMB) host was a guest on US TV show Real Time with Bill Maher along with Australian comedian Bill Maher.
Towards the end of the programme, Maher asked whether people who said during the US election campaign that Hillary Clinton was the "lesser of two evils" should apologise, in light of President Donald Trump's executive orders to build a wall between the US and Mexico and the implementation of a travel ban on people from seven Muslim-majority countries.
When Morgan questioned why people should apologise, Jefferies described Trump's travel restrictions as a "Muslim ban", to which Morgan said "there is no Muslim ban".

Jefferies interjected to say: "Oh, f**k off. This is what you do, Piers – you say, 'he hasn't done this, he hasn't done that, he's not going to do all these things'. Give him a f**king chance mate – Hitler didn't kill the Jews on the first day, he worked up to it."
"You just like that you won The Apprentice and you have a famous friend, mate," he added.
When Morgan described Jeffries words as "ridiculous, hysterical over-the-top nonsense", the funny man responded by sticking one finger up at him.
Clips of the rude gesture have since gone viral and inspired a number of internet memes.

Continuing the mud-slinging, Rowling offered him time to "mock up pictures of refugees carrying explosives" to substantiate his position, adding: "The fact-free, amoral, bigotry-apologism of celebrity toady Piers Morgan is, of course, why it's so delicious to see him told to f**k off."
In his comeback, Morgan branded Rowling – who has almost double the number of Twitter followers than him and amassed a wealth of millions through book and film franchises – a "minor celebrity".
He sneered: "Peak foul-mouth, minor celebrity anti-Trump hysteria at its most deliciously supercilious."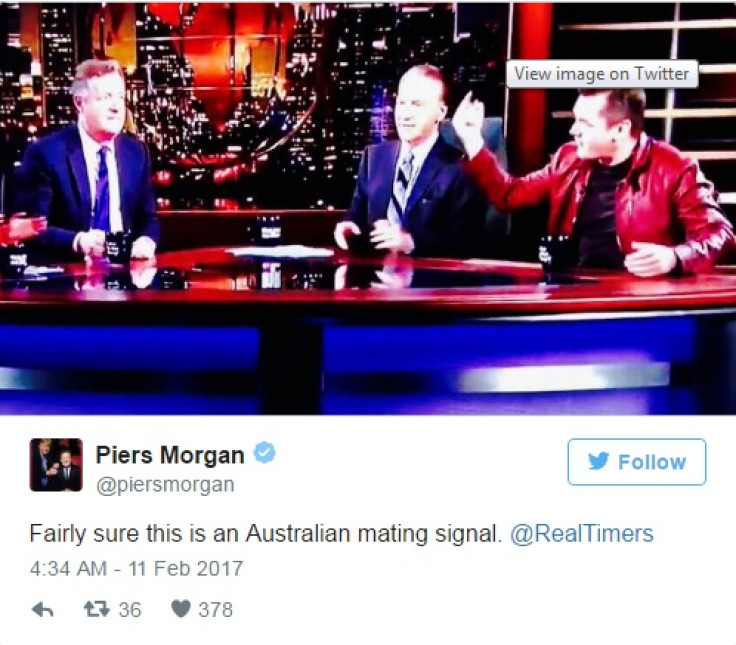 Rowling is not the first celebrity to clash with Morgan.
He frequently spars with Lord Alan Sugar on the micro-blogging site.
Actor Ewan McGregor cancelled an appearance on GMB at the last minute after disagreeing with his views on the Women's Marches last month.
Morgan also has a long-standing feud with David and Victoria Beckham.
WARNING: EXPLETIVES USED