While Jackie Evancho faced criticism for agreeing to sing at President Donald Trump's inauguration, her performance too has prompted a backlash on social media.
The 2010 America's Got Talent runner-up sang the National Anthem on Friday (20 January) morning as the new President was sworn on.
Singing before a viewing audience of millions, the 16-year-old seemed unfazed as she sang the Star Spangled Banner in the presence of the out going President and First Lady Barack and Michelle Obama and the new President.
As she concluded her performance President Donald Trump was heard saying to her "Great job, Jackie!"
While she won praise from the President, and fans of the opera singer were eager to point out that she sang live in contrast to Beyonce who famously lip-synched in 2012, others felt the performance fell flat, and compared poorly with Aretha Franklin who performed at Barack Obama's inauguration in 2009.
"Too bad they didn't have Jackie Evancho lip-sync...she was awful...off-key...sad! " said one unimpressed viewer.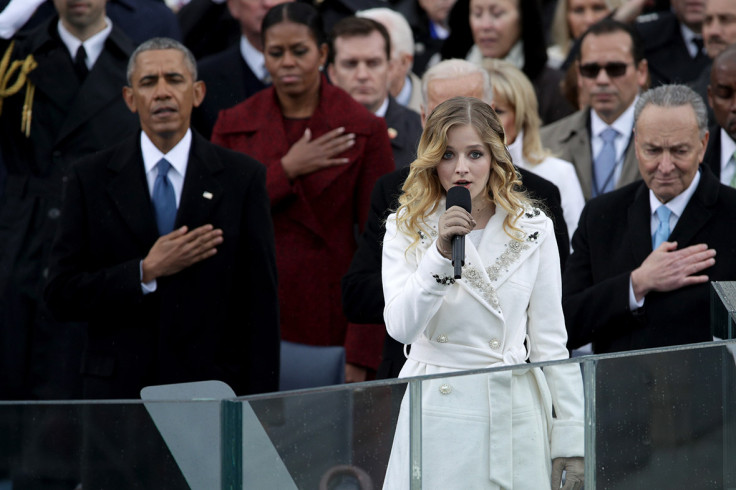 "Jackie Evancho, I'm sure you did this for exposure but this was a bad idea. I've never heard of you but won't buy your music now. #mistake" wrote another.
Some suggested the poor performance spells doom for her career. "I honestly feel bad for @jackieevancho Whatever career she had is now done. I don't know what her parents and manager were thinking. "
Evancho 's decision to perform at the event was questioned at the outset, since her sister is a transgender teen who is fighting for access to the women's bathrooms at her Pennsylvania high school . Vice President, Mike Pence, has voiced support for conversion therapy for LGBT people.
However, the teenager said that her decision to accept the invitation to sing had nothing to do with politics.
"I just kind of thought that this is for my country," she told the New York Times last week. "So if people are going to hate on me it's for the wrong reason."