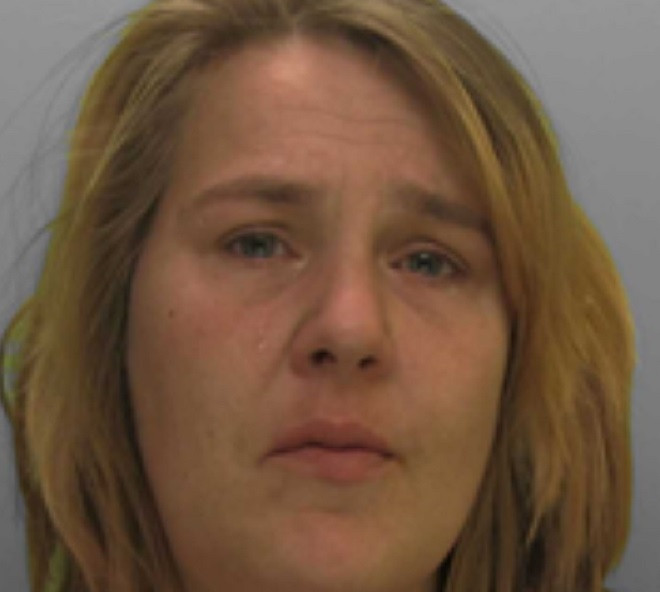 A woman who was caught riding naked on a motorcycle, performing a sex act on a high street filled with shoppers, punched a blind man and racially abused a policeman has been jailed.
A judge said that repeat offender Natasha Claus' life was a "mess" as she was jailed for 13 months for a string of offences.
The 36-year-old arrived at Guildford Crown Court four hours late where she was also issued with a criminal behaviour order which means she has been barred from Woking town centre in Surrey.
Claus, of no fixed abode, admitted a charge of outraging public decency, in which she was caught by in the middle of a sexual act with a man by a woman shopping with her children.
Judge Peter Ross said the sex act, on 29 July, was "no doubt for money" and the court heard that Claus was known to target and take advantage financially of vulnerable men living in sheltered accommodation.
"A woman was there with her children and she remonstrated with Ms Claus who then stood up and threatened to punch her," said prosecutor John Upton, according to the MailOnline.
"When Ms Claus was searched at the scene by the police she had done her jeans up but her knickers were found in her handbag."
The prosecutor heard that Claus assaulted a blind man after the council later threatened to evict him from his one bedroom flat because of her anti-social behaviour.
Upton said: "They had arguments which escalated over various phone calls. She then approached him in the kitchen with either a fist or the palm of her hand. He couldn't tell as he is registered blind."
The court was told that Claus also assaulted two police officers as they tried to arrest her, racially abusing one of them
Upton continued: "PC Hopper took hold of her left arm and PC Haslan her right. She pushed her arms away and resisted.
"She kicked PC Hopper in the leg, and yelled "you p**i c**t" at least twice".
Judge Ross also made reference to another incident, saying: "I had the impression there was some reference to her riding around on a motorbike with no clothes on, but that has nothing to do with the charges today."
Timothy Leete, Claus' defence barrister, said his client had become addicted to inhaling butane gas and was struggling to come to terms with her mother's suicide.
Claus was handed three months for the assault on the blind man, two months for assaulting the PC, two months for being racially abusive to the other officer, one month for outraging public decency and a further month for abusing the lady in the street.
A four-month jail term was also activated as part of a suspended jail sentence, and one day for breaching bail.
Claus is banned from entering parts of Woking due to her aggressive and anti-social behaviour in and around the town centre.