The footballer Adam Johnson, jailed for sexual activity with a child, has been caught on camera in prison saying he wishes he had raped her.
Johnson, 29, played for Sunderland and earned £60,000 a week before he was jailed for six years in 2016 when he was convicted of sexual activity with a 15-year-old girl.
Prosecutor Kate Blackwell QC told the court Johnson's crimes had left his victim with "severe psychological harm" and suicidal thoughts.
Now Johnson has been secretly filmed in his prison, HMP Moorland, talking openly about the girl and his conviction. A fellow prisoner says to Johnson: "You never even f****d the bird?"
"I didn't even get my c**k out," Johnson replies in the video, obtained by The Sun.
"It's not like you f*****g raped her or owt like that?" his prison friend asks.
"No, I wish I f*****g did for six years," says Johnson, chuckling.
Later on, Johnson is filmed complaining about his sentence, which he thinks is unduly harsh because of his fame. "If you were Joe Public, you wouldn't have gone to jail," says a prisoner.
"I would have got a caution at the police station," replies Johnson, who also complains that "there's lads in here who's f*****g shagged like 12-year-olds and got 13 months and that. Do you know what I mean? They got like half the time."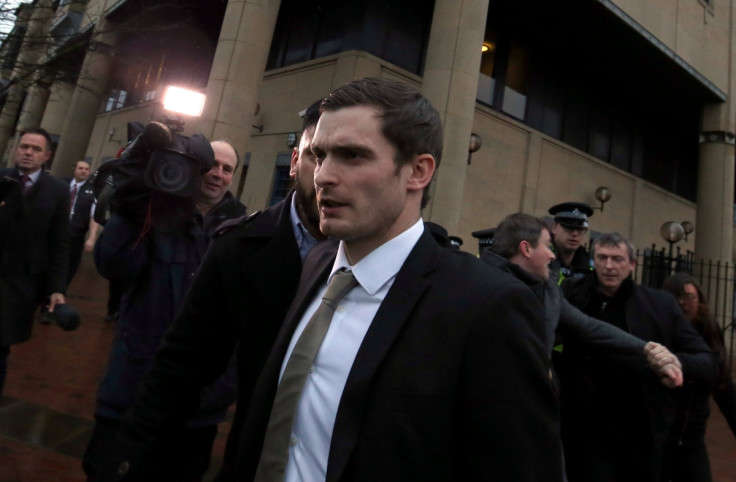 He also appeared to blame the victim – who has been harassed by Johnson's supporters – for what happened. "I was going to the home games like, you park your car in the car park and she was at my car every game right, waiting for me, just standing there like in all the gear and that," Johnson said.
"Like tight jeans, little shirt, t**s out, not like skirts and that. Then after the game she was asking for pictures all the time. This went on for about six months and the next thing she says, 'Can you get us a signed shirt?' and uh... then she added me [on social media].
"I accepted her, got talking to her, I didn't, I didn't know, I just thought she was 17, 18. Got talking to her for a few weeks and then I met up with her and f*****g kissed her."
During Johnson's trial, the jury was read out some of the 834 messages sent between the pair, including one conversation on 31 December 2014 where Johnson found out the girl would not turn 16 until the following November.
Johnson had also Googled "legal age of consent" on his phone after one liaison with the girl. The footballer claimed this was unrelated to her and instead stemmed from conversations he had with fellow Sunderland players about different consent laws around the world.
"What part of 'age of consent' does Johnson not get? To make it crystal clear to him: adults can't have sex with children," a spokesperson for the children's charity NSPCC told The Sun. "His lack of remorse for sexual activity with a child is appalling and shows utter contempt for his victim."