Protests turned violent on Monday (23 January) across several cities in the southern Indian state of Tamil Nadu, after almost a week of peaceful demonstration over the ban on the traditional bull-embracing festival, Jallikattu. Police have been deployed in cities like Chennai, Coimbatore and Madurai where violence broke out after the forces started evicting the protesters.
At least 5,000 people were present at the iconic Marina beach on Monday morning, where some of them reportedly started pelting stones at the police, which reportedly led the officials to resort to baton charge and tear gas to control the crowd.
Roads leading to the beach have been cordoned off and food supplies to the protesters have also been stopped.
In another incident, more than 20 policemen were injured after protesters set a police station in Tamil Nadu's capital Chennai on fire. Fifteen vehicles parked in the police station also went up in flames.
Local media reports suggested that police have detained hundreds of people across the state following the violence. In Alanganallur near Madurai, which is the famous place for conducting the sport, 82 students have been detained.
Demonstrators have been camping from 17 January at Chennai's Marina beach, but a vast number of them have already left the protest site after the Indian government temporarily cleared the way for the bull-embracing event to resume in the state, bypassing the Supreme Court ban.
However, thousands have continued to protest and refused to celebrate the festival, saying they want a permanent lifting of the court ban and not just a temporary order. They reportedly even threatened to block the 26 January Republic Day parade in Chennai. Traffic around several part of Chennai, Coimbatore and Madurai cities, where the protests intensified, were affected.
Television footage showed men getting beaten up by the cops after some of them protested resisted leaving the demonstration site. But students who took part in the protests told NDTV news that those attacking the police are not among their community.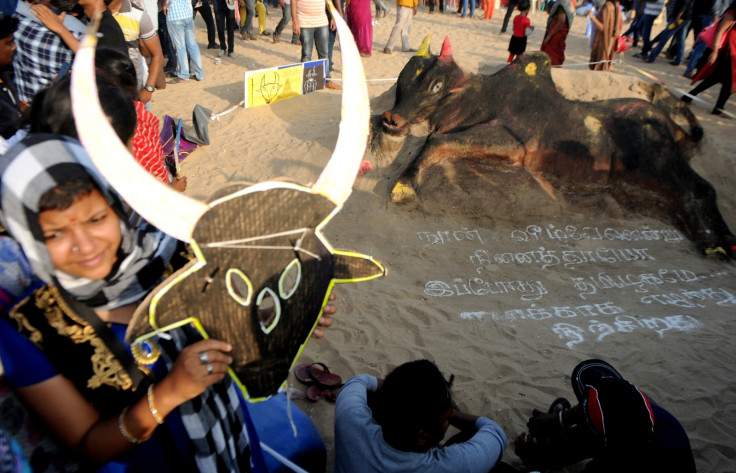 Police are also suspecting a possible naxal link to the violence. Naxalities are considered far-left radical communists, who support Maoist political sentiment and ideology. The police also blamed the violence on "anti-social elements" insinuating themselves in the crowd.
Meanwhile, the bull-embracing festival was held in Pudukottai, Trichy and Erode districts on Sunday (22 January). Two participants were reportedly killed at one of the events and at least 80 others were injured.