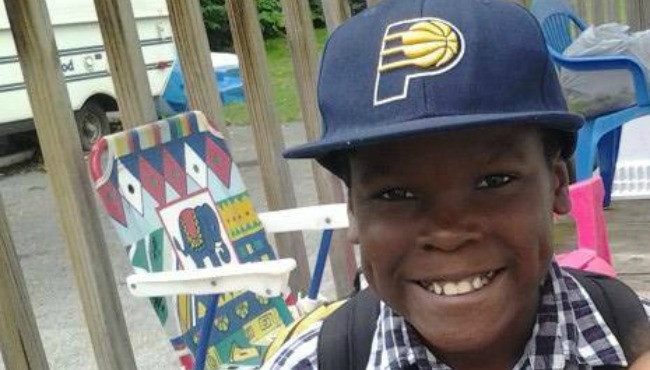 The 12 year-old boy charged with killing a 9-year-old boy in a playground knife attack planned the attack for more than a year, according to court documents.
The documents also state that Jamarion Lawhorn did not know Connor Verkerke before he stabbed him in the back with a steak knife in Kentwood playground, Michigan.
The file contains reports from the police officers investigating the Monday night murder, reports WZZM13.
According to witnesses and statements made to police, Lawhorn wanted to kill himself and "take somebody with him".
Lawhorn claimed he swallowed half a dozen pink pills he found in his family medicine cabinet, took an 8in steak knife from the kitchen, and walked a half mile to the small playground in the nearby Pinebrook Village neighborhood, where he carried out the attack.
Connor Verkerke was playing in the park with his 7 year-old brother and an 8 year-old friend.
Lawhorn admitted stabbing Verkerke an unknown number of times.
Verkerke's brother helped him back to their home, 100 feet away. Verkerke was taken to hospital, where he died.
Lawhorn went to a nearby residence, where he borrowed a cellphone and rang 911, telling police that he had stabbed someone, and that they should come and get him.
The 12-year-old told investigators that he wanted to die, and that if he killed someone he believed he would be executed by lethal injection or in an electric chair.
He told investigators that "he's bad and always does stupid things".
Initially Lawhorn said he did not care about the victim, then said he was concerned "because it made him feel stupid", wrote an investigator.
Lawhorn's attorney, Charles Boekeloo, entered a not guilty plea for his client on Tuesday.
Lawhorn is the youngest person to be charged with murder in the history of Kent County. If found guilty of the attack, he could be sentenced as a juvenile, and then sentenced as an adult when he reaches 21.