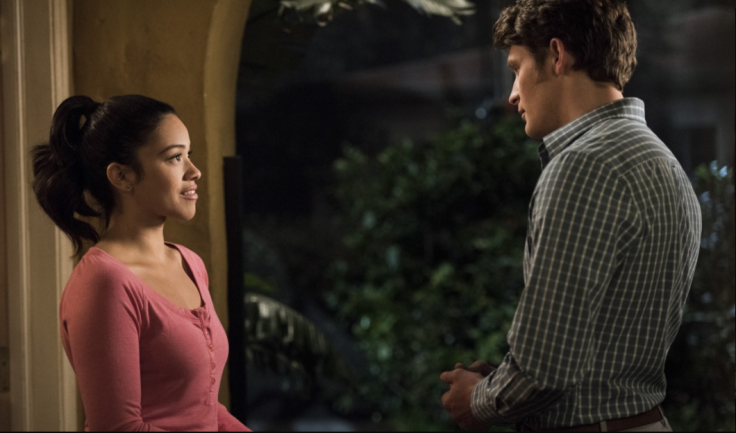 Jane Gloriana Villanueva and Michael Cordero are officially engaged, yet again, in Jane the Virgin season 2. In the previous episode, Petra Andel gave birth to Rafael Solano's twin baby girls and Jane happily accepted Michael's proposal.
Brett Dier (who plays Michael) spoke about the Team Michael victory and Rafael's reaction to the surprise engagement. Dier told The Hollywood Reporter: "Rafael's definitely really pissed off. That's going to be a problem for sure. There's going to be a lot of tension between them too. Since he's got the girl now, he's done a lot of self-reflecting and he just wants to forgive Rafael for everything and also apologize to him because he's the one that punched him in the mouth. "
"[That] wasn't a good thing to do but that's haunted Michael ever since, so I feel like Michael knows he has to apologize to this guy, he's got to accept him in his life and that's the end of it. That's the only option now. But Rafael was the one who got punched in the face, so he obviously has a whole different view on that and rightfully so," the 26-year-old actor added.
There will be a lot of drama and tension between Rafael and Michael, teased Dier and shared: "I think they're definitely going to have some tension. They work together on the Mutter case, or at least they try to work together, it's going to be a lot of tension, a lot of drama, like usual."
This is Jane and Michael's second engagement and Dier pointed out that nothing is official yet. He said: "There's a lot of figuring out to do even afterwards. Engaged doesn't mean you're married; it just means you're engaged. Michael and Jane were engaged already once but it didn't work out. Nothing's official. Nothing's for sure, ever, especially with this show because they always like to make you think one thing and then turn it around."
The CW series will go on a week hiatus and return with all-new episodes 21 March at 9pm EST. Chapter Thirty-Seven will feature new beginnings for everyone. The synopsis reads as follows:
Rafael (Justin Baldoni) and Petra (Yael Grobglas) are new parents but Petra is already back to work and appears to be not interested in motherhood. Xo (Andrea Navedo) has invited Alba's (Ivonne Coll) old flame Pablo (guest star Marcelo Tubert) to visit. This does not sit well with Alba as she believes Pablo is cursed and will bring bad luck. Jane (Gina Rodriguez) is growing concerned that she can't get in touch with her father, Rogelio (Jaime Camil), who is being held captive by Lola (guest star Ana De la Reguera).