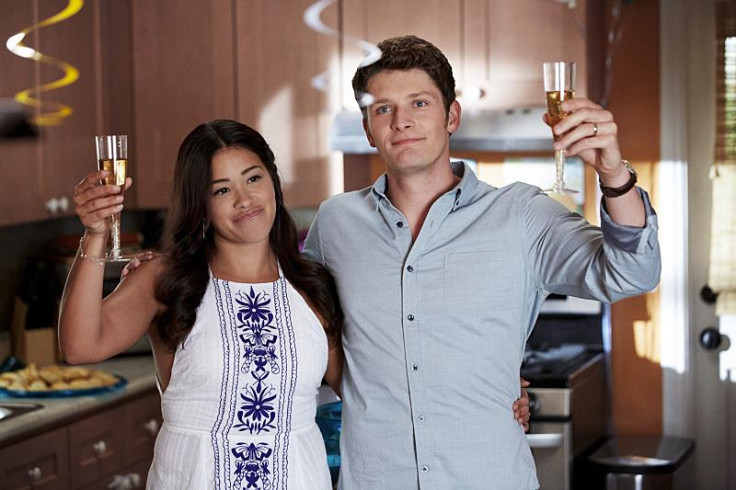 It will be at least two more weeks before the Villanueva family is back on CW with their romantic entanglements. The comic drama – which aired episode 15 on 27 March – is currently on a hiatus, and will not be airing any new episodes for the next two weeks. When the show finally returns in April, fans can expect new cast and a brand new romance.
Jane The Virgin airs season 3 episode 16 on CW on 24 April at 9pm EST. Click here to watch old episodes on the official website of the network.
When the show last aired, Jane was trying to move on in life after the death of her husband Michael Cordero (Brett Dier). However, her attempts at resuming dating life did not progress well as she ended up alone following a miserable date with Dennis.
But if actress Gina Rodriguez's recent Instagram post is any indication, one of Jane's old lovers may make a comeback – even if it's for few moments in some heart-warming flashback scenes. The 32-year-old actress shared a picture of the entire cast as they film the season 3 finale, and shockingly Dier was among those present on set.
"My beautiful, weird, funky tv family. God. I love them all. #janethevirgin#seasonFinale," she captioned the adorable snap, fuelling hopes that Dier's character may make an appearance in the finale episode.
Of course, Michael can't be back in flesh and blood, considering that he was untimely killed earlier in the season right when he and Jane were ready to start their new life as a married couple. His appearance would, nevertheless, excite fans who were left devastated after his sudden death.
Jane's life is set to take a dramatic turn as Teen Wolf heartthrob Tyler Posey too joins the cast in an integral role. Posey is rumoured to play someone from Jane's past, perhaps the other lover that has been mentioned by the narrator.
Unfortunately for those rooting for a Jane and Rafael (Justin Baldoni) romance, things did not turn out well with Rafael once again falling for his ex wife Petra. There could still be chances of sparks between the two, according to Baldoni.
"What's great about that, for all the Jane and Rafael shippers, is that if there were anything to happen in the future, is that there's a foundation for that, whereas before, there wasn't," he explained.
Is there a love triangle in the making? Find out when Jane The Virgin returns in April.