Nearly 400,000 people were ordered to evacuate their homes in southwest Japan as heavy rain continued for the fourth day, it has been reported.
At least 29 people lost their lives or were missing in landslides and floods, according to media reports quoting officials.
Over 75cm (30 inches) of rain fell in 72 hours in the city of Aso, in Kumamoto prefecture, according to an AFP report quoting weather officials.
On Saturday, a rainfall of up to 4.3 inches per hour was recorded in the southern island of Kyushu.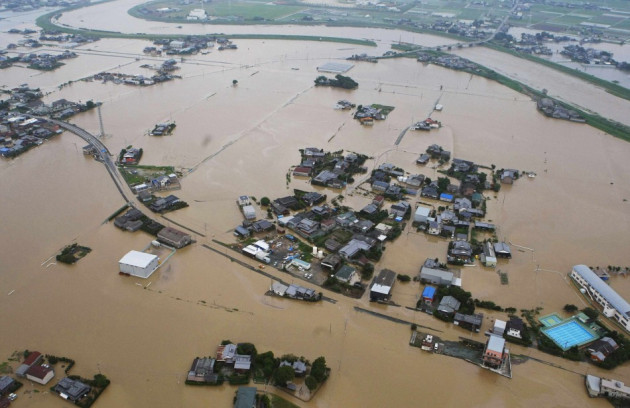 Meanwhile, evacuation orders were issued for over 250,000 people in the northern parts of Kyushu as most of the rivers were showing signs of breaching their banks and some overflowing.
According to an AFP report, nearly 140,000 other people were advised to leave their homes to avoid possible disaster in the affected prefectures in Kyushu. People were asked to take shelter in schools and public facilities designated for the purpose.
Evacuation orders were effective for Fukuoka, Saga, Kumamoto and Oita prefectures.
The "unprecedented" weather since Thursday flooded homes and caused large-scale devastation. Aerial footage of the region showed flooded houses and streets with muddy water.
Nearly 820 houses were damaged and three bridges washed away, AFP reported, quoting Fukuoka prefecture spokesman Hiroaki Aoki.
"Two men were rescued from landslides but their condition was not immediately known. One woman was still trapped," Aoki told AFP.
"I don't remember any flooding which stretched over such a wide area in our prefecture," he added.
Nearly 181 landslides occurred in Fukuoka. The Japan Meteorological Agency's updated data on its website showed flood warnings for Fukuoka and Niigata on Sunday.
Japan's Self-Defence Forces are conducting search operations for the missing.