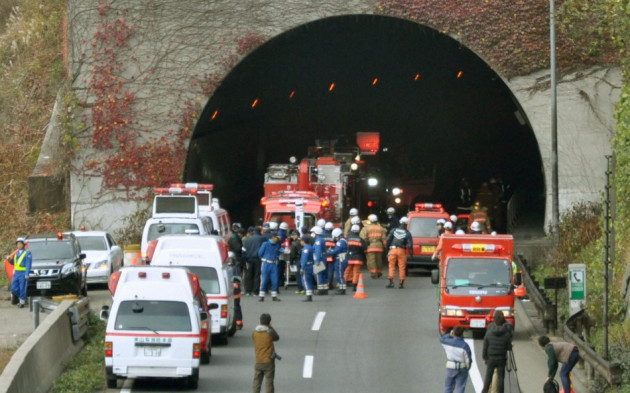 Charred bodies have been found inside a busy highway tunnel that has collapsed to the west of Tokyo, trapping several vehicles and their occupants.
The Sasago tunnel is one of the longest in Japan and links the capital to the city of Nagoya. It collapsed at around 8am on 2 December local time (11pm GMT 1 December). The tunnel is around 80km (50 miles) west of Tokyo.
Rescue efforts have been halted because of fears that the 4.3km (2.7-mile) tunnel may collapse further and officials do not know how many people remain trapped inside. Footage aired by NHK television showed black smoke rising out of the tunnel.
Closed-circuit images from inside the tunnel showed that a 100m (328ft) section had caved in on the Tokyo-bound side of the Chuo Expressway, in Yamanashi prefecture.
"We don't know exactly how many vehicles are on fire," a traffic police official told AFP. He said one woman had been taken to the hospital as she came out of the tunnel. The cause of the collapse is not yet known.
Click here for video from the accident scene.