Marine conservation charity Sea Shepherd says it has located the Japanese whale poachers' factory whaling vessel with a dead minke whale on its deck. After five weeks of searching the Southern Ocean, the activists claim to have first-hand evidence of whales being illegally hunted.
It is the first to be documented since the International Court of Justice (ICJ) ruled in 2014 against the Japanese whaling operations in the Antarctic. T
he Australian Federal Court found the Japanese whaling industry in contempt for killing protected whales in the Australian Whale Sanctuary.
The Nisshin Maru was located by the helicopter of Sea Shepherd's MY Steve Irwin on Sunday 15 December.
"At this moment the Japanese fleet are on the run, and the Sea Shepherd fleet will keep following close behind until they have left the Southern Ocean Whale Sanctuary," Heather Stimmler, spokesperson for Sea Shepherd Global told IBTimesUK.
According to the activists, the Nisshin Maru team attempted to hide the minke whale under a blue tarpaulin, while the Japanese ships Yushin Maru and Yushin Maru #2 covered over their harpoons.
"The whale killers from the Nisshin Maru were caught red-handed slaughtering whales in the Australian Whale sanctuary," Captain Adam Meyerson of the Ocean Warrior, Sea Shepherd's newest Southern Ocean patrol ship said. "The Steve Irwin has shut down their illegal operations and caught them trying to hide the evidence."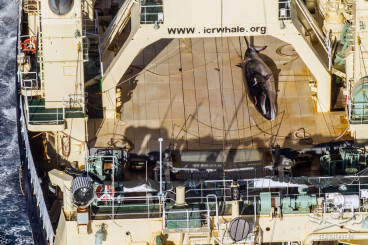 The alleged killing of the whales was discovered a day after a state visit by Japan's Prime Minister Shinzo Abe to Australia.
"The fact that the Japanese crew went to cover up their harpoons and the dead minke whale on deck just shows that they know what they're doing is wrong," says Captain Wyanda Lublink of the MY Steve Irwin. "They know they are in contempt of the ruling of the International Court of Justice and the Australian Federal Court. How can the Australian government ignore these actions when the majority of Australians condemn what they are doing?"
Japan has admitted that more than 300 whales, including 200 pregnant females, were killed in the country's latest whaling mission in the Southern Ocean.Over a period of 115 days from 1 December 2015, a total of 333 minke whales were harpooned, according to a Guardian report https://www.theguardian.com/environment/2016/mar/25/japan-admits-to-killing-more-than-300-whales-in-southern-ocean.
Over a period of 115 days from 1 December 2015, a total of 333 minke whales were harpooned, according to a Guardian report.
This was confirmed by Japan's Institute of Cetacean Research as its ships returned from what they state was a "scientific" expedition in Antarctica.