A Japanese man dubbed the "Twitter killer" has been charged with the murder of a 23-year-old woman who he allegedly suffocated at her apartment.
Takahiro Shiraishi, 27, has been accused of killing and dismembering nine people in total. Most of his victims were women aged between 15 and 26.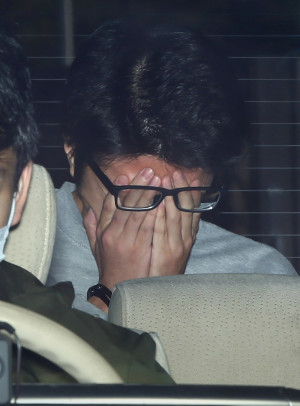 He has admitted to murdering all nine and told police that his motives were financial and sexual.
Police said Shiraishi contacted his victims on social media, luring vulnerable women to his apartment by offering them help in their suicide bids.
Shiraishi's gruesome intentions were discovered when police launched an investigation into the death of 23-year-old Aiko Tamura.
After the woman went missing last month, her brother logged into her Twitter account and found a message from Shiraishi offering to help Tamura take her own life.
Tamura had tweeted: "I'm looking for someone to die with me."
Police said Shiraishi choked Tamura at his apartment on 23 October.
The remains of eight women and one man were found at the apartment in Zama, a city south-west of the capital Tokyo, on 31 October. 240 pieces of bone, including heads and limbs, were recovered.
A police official said a saw may have been used to dismember the bodies.
"He has told investigators that none of (his victims) truly wished to die. They merely wanted someone to talk to," a police spokesman said.
Four days after the bodies were discovered, Twitter unveiled new rules that in future users "may not promote or encourage suicide or self-harm." But the social media website did not ban tweets that express a wish to kill oneself.
Japan has the highest suicide rate among the G7 countries. In 2015, the suicide rate was 18.5 per 100,000 people. The government hopes to cut the rate by 30% over the next ten years.
Akiko Mura, of the suicide prevention group Befrienders Worldwide Tokyo, told AFP that Shiraishi gained his victims' trust by convincing them that he understood their wish to die.
"They might have thought he was the only person who would sincerely listen to their problems," she said.
The Samaritans provides a free support service for those who need to talk to someone in the UK and Republic of Ireland. It can be contacted via Samaritans.org or by calling 116 123 (UK) or 116 123 (ROI), 24 hours a day, 365 days a year.