Having waited two decades for a sequel to Roland Emmerich's Independence Day, fans now only have a week to wait until Resurgence is finally released in cinemas. It turns out that sci-fi buffs aren't the only ones chomping at the bit to see the film on the big screen.
Talking in an interview with Cinema Blend that was conducted late last year, star of both the original and the new instalment Jeff Goldblum explained how he was looking forward to watching the film with an audience because as "you can imagine, there's much spectacle" to be seen.
"You've asked the right person... because I do like to watch movies," he explained to the publication. "I'm thinking of several scenes. There's more spectacle than I have seen in any... I think it moves the ball, it raises the bar, whatever metaphor I'm stupidly trying to think of, ahead. So it's going to be something that, even though you think you have seen everything before, you'll go, 'I never... That's bigger, and more than I thought!' So some of that. And I'll enjoy that."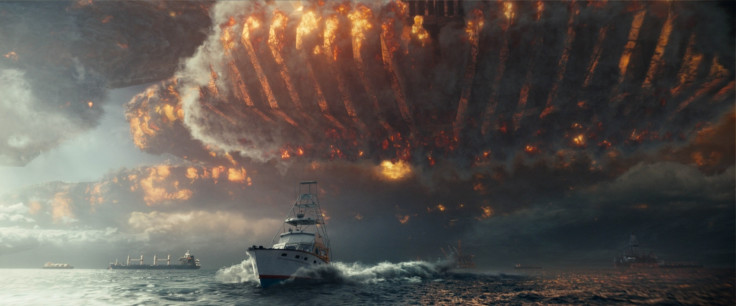 It's not all about the action sequences and dazzling special effects – of which there seems to be an abundance – however, it's got some real heart too, according to Goldblum. "Roland is a person of soulful wisdom and humanity. Once again, he's very interested and passionate about creating characters that, for him, tell a story of loveliness and love, of comradeship and some very touching and sweet and funny things.
"He's got a very keen sense of humour. So I'm hoping that those moments will be delightful in those ways. And I can imagine, you know, watching it with the audience," he concluded, mimicking himself eating a tub of popcorn as he did so.
Independence Day: Resurgence takes place 20 years on from the 1996 original, which saw Goldblum and Will Smith teaming up to save the world from an alien invasion. This time, the extraterrestrials are back for some well-prepared revenge. While Goldblum reprises his role from the first film, sadly Smith isn't back. However, Bill Pullman does return as President Whitmore and sci-fi lovers will find a new worthy hero in the form of Hunger Games star Liam Hemsworth. It will reach UK cinemas on 23 June and US big screens the following day.
For more entertainment news follow A-List on Twitter @Alistinsider