A teenage boy who was beaten to death and buried in a grave in the road near his home in New Mexico, was raped and burned before he was murdered.
Jeremiah Valencia, 13, was allegedly beaten to death by his mother's boyfriend, Thomas Ferguson. In February, the 42-year-old was arrested along with the boy's mother Tracy Pena, 35 and Ferguson's 19-year-old son Jordan Nunez, who were each charged with abuse of a child resulting in death.
It was earlier reported that Jeremiah was forced to live and sleep in a dog kennel, however, the full extent of the horrifying abuse he suffered has now been revealed.
The Santa Fe County Sheriff's Department said that an autopsy revealed that Jeremiah's body had lacerations consistent with sexual assault and that portions of his body 'had possibly been burned.'
Jeremiah, who was not enrolled at a school, was regularly beaten by Ferguson and, as a result of his injuries, needed a cane to walk.
His sister told investigators that Ferguson had punched Jeremiah repeatedly, battering him to death. She described how he and Nuñez washed Jeremiah's body in the bath tub 'to clean the blood off him' before placing him in his bedroom. Peña claimed she found him dead, wrapped in a blanket in his room.
However, while in prison she reportedly confided to a fellow inmate at Santa Fe County jail that she had been forced by Ferguson to move her son's remains. She said she was too afraid of what her boyfriend would do to her if she told anyone what had really happened to her son.
Following the shocking admission, Jeremiah's body was found by police buried in a grave near his home near New Mexico State Road.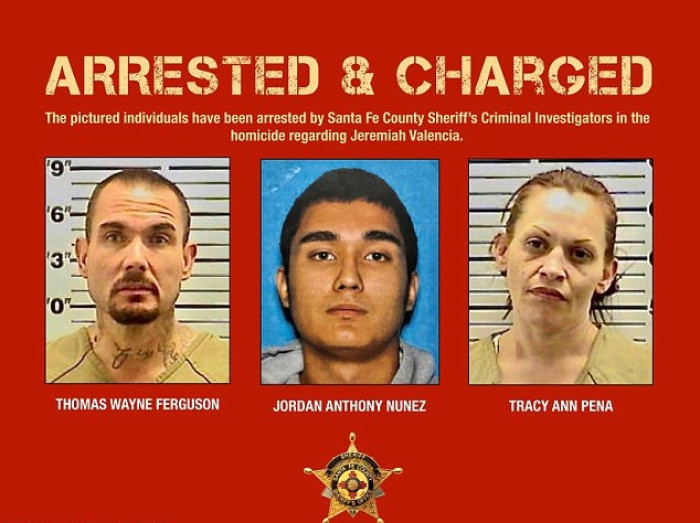 His sister's accounts of the brutality he suffered and the details of his death were corroborated by investigators who found drops of his blood 'not visible to the naked eye' inside Ferguson's bedroom, as well as Jeremiah's bedroom.
The sister told investigators that she was forced to lie about her brother's whereabouts when anyone asked about him and to tell people that he was staying with other family members.
According to Mail Onlinne, Nuñez said he was also abused by his father as a child and feared the consequences if he were to go to the police.
District Attorney Marco Serna said:"It's absolutely heartbreaking, these acts are senseless and these people will be brought to justice."