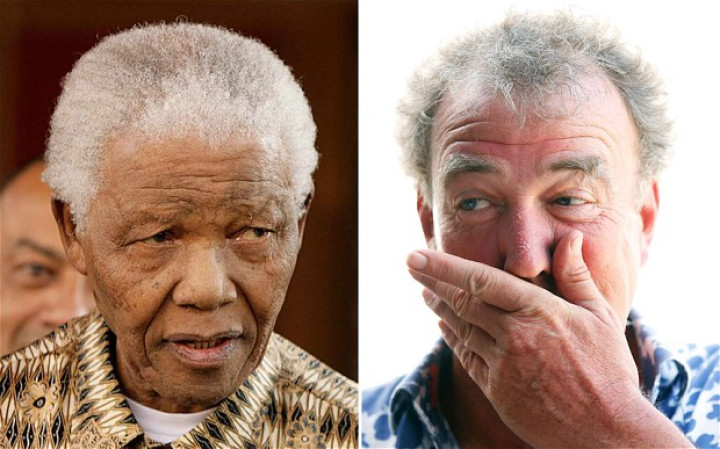 Nelson Mandela's former personal assistant Zelda La Grange has revealed in a new memoir that Jeremy Clarkson once asked the iconic anti-apartheid leader during a meeting: "Have you ever had a lap dance?"
The exchange occurred in 2010, when Clarkson was touring South Africa with the hugely popular BBC programme Top Gear.
La Grange, who launched her candid memoir Good Morning, Mr Mandela this week, said the incident was one of the "ugliest" she had experienced while working for Mandela, who died in December 2013 at the age of 95.
"I knew that Jeremy Clarkson was humorous but I thought he had tact," La Grange said. "As I walked into Madiba's office, he asked Madiba if he had ever had a lap dance.
"I thought it was completely inappropriate for him to ask something like that to an elderly statesman and Madiba looked at me as if he expected me to answer. I turned to Madiba and said: 'You don't have to answer that, Khulu (grandfather)'. I immediately got to my boiling point – I was sizzling out of my ears, that's how angry I was."
"With Jeremy Clarkson there was just nothing more to say," La Grange added. "So Madiba asks him: 'Have you been to the moon?' If he can make such a stupid joke, Madiba can also."
Clarkson assumed that Mandela, who had met Neil Armstrong just the day before, had mistaken him for an astronaut and replied: "It's rocky and dusty and there's not much gravity."
La Grange goes on to describe exchanges between Mandela, Clarkson and his Top Gear co-presenter James May, in which La Grange accused the presenters of underestimating Mandela's intelligence because of his age.
The memoir also details Mandela's encounters and friendships with several high-profile individuals including former Libyan leader Muammar Gaddafi and Queen Elizabeth II, as well as the former South African leader's frosty relations with Robert Mugabe.
Clarkson has been involved in a number of high-profile controversies. Earlier this year, Clarkson prompted widespread anger over his use of racial slurs in an unaired clip from Top Gear. Despite repeated calls for Clarkson to be fired, the BBC allowed the presenter to keep his lucrative post.
In 2011, the BBC apologised after a Top Gear episode in which co-presenter Richard Hammond called Mexicans "feckless [and] flatulent", and Clarkson joked that they would not receive any complaints because the Mexican ambassador would be asleep.