Jeremy Clarkson has vowed to sue the BBC if he is dropped from Top Gear over an alleged attack on a producer.
According to a source close to the 54-year-old, Clarkson plans to take legal action against the BBC if he is fired from the top-rated show.
Speaking to the Sunday Mirror, the source, said: "There is no doubt that if Jeremy is fired it won't be the end of it. Lawyers will be involved."
According to the article, the under-fire presenter "won't go down without a fight" and believes that BBC executives launched a smear campaign against him ahead of the independent inquiry.
Clarkson's fate could be decided in days when an independent report compiled by BBC Scotland chief Ken MacQuarrie into the allegations is released.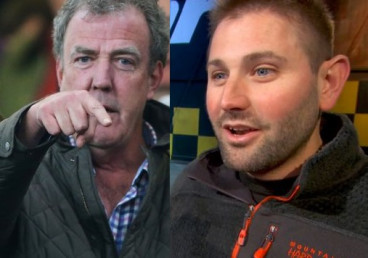 The presenter was suspended two weeks ago, after allegedly hitting Top Gear associate producer, Oisin Tymon, 36, outside a North Yorkshire hotel. Tymon reportedly needed hospital treatment for a split lip.
The incident – described as a "fracas" by the BBC – led to the final three episodes of Top Gear's current series being pulled off air.
Top Gear's future
The show's future is now in doubt, as Clarkson's co-presenters, James May, 52, and Richard Hammond, 45, have reportedly said they will not carry on making the show without their colleague.
Meanwhile, Clarkson told the Sunday Mirror that he had been "put on silent" about the fracas, despite launching a foul-mouthed rant at BBC bosses last week at a charity event.
The presenter was filmed speaking at The Roundhouse Gala in north London calling executives at the broadcaster "f*****g b*****ds" in footage that was uploaded to Youtube.
Writing in his column in the Sunday Times, Clarkson said: "I woke up after a night at a charity do to be told by my lawyer that someone had uploaded a video of me using choice language to describe bosses at the BBC.
"But it was all meant in jest and anyway it worked. By being brief, controversial and a bit sweary I woke the room up and the auction prize I was offering – one last lap of the Top Gear test track – raised £100,000."
Unlike Tymon, Clarkson is not BBC employee, but is a freelance presenter. His contract to present Top Gear was due to be renewed next month.