Jeremy Corbyn's son Tommy 'likes' Facebook pages peddling conspiracy theories including anti-Semitic cartoons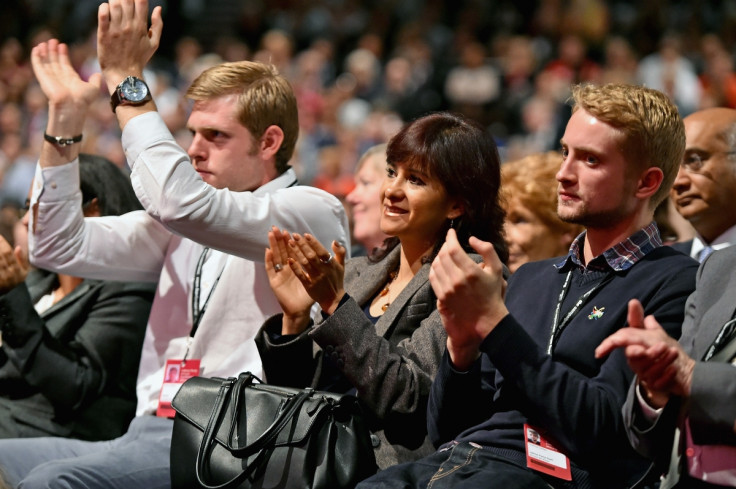 Jeremy Corbyn is under pressure to distance himself from the Facebook activity of his son Tommy as it emerges he likes several pages peddling conspiracy theories, such as 9/11 being an inside job, and what one Labour MP described as anti-Semitic hate material.
Tommy Corbyn, son of the Labour leader and an electrical engineering student at the University of York, who was pictured applauding his father's speech at the party's annual conference in 2015, is a left-wing activist and events manager of York's Palestinian Solidarity Society.
The university society he helps run staged a play during "Israeli Apartheid Week", called Seven Jewish Children, which the novelist Howard Jacobson called "Jew hating, pure and simple". However, Charlotte Higgins, an art critic for the Guardian, defended the play by Caryl Churchill, writing in 2009 that "I do not now believe it to be anti-Semitic... I cleave strongly to the view that it is possible to be critical of Israel without being anti-Semitic."
Now IBTimes UK reveals that among the many dozens of Facebook pages liked by Tommy Corbyn's account — which includes the Conservatives and David Cameron — are David Icke, Anti New World Order, and Cloaked Truth, which promote lurid conspiracy theories and other concerning material, including cartoons playing on the anti-Semitic trope of a Jewish conspiracy to control the world.
"Anti-Semitic conspiracy and hate material continues to proliferate online and people should be reporting rather than supporting racist content," Wes Streeting, a Labour MP and vice-chair of the All-Party Parliamentary Group Against Antisemitism, told IBTimes UK. "I am sure that Jeremy Corbyn will want to use this opportunity to highlight his own opposition to anti-Jewish hatred online or indeed off."
Tommy Corbyn had not at the time of publication replied to a request for comment via Facebook. IBTimes UK asked why Corbyn liked the pages, what he thought of the material they posted, and whether he would continue to like them. There is no suggestion Corbyn is himself anti-Semitic or believes conspiracy theories.
Moments after the deadline for comment passed, IBTimes UK received a letter from Howe & Co, Corbyn's lawyer, claiming their client had not been given enough time to respond to "serious allegations of the most damaging nature."
"My firm will respond to you as soon as we have full instructions and have had a reasonable amount of time to look into the issues you raise, but in the meantime my client has asked me to put you on notice, in the clearest possible terms, that he considers any publication by you and the IB Times in the terms described in your message to be seriously defamatory of him and he has instructed my firm to pursue all causes of actions against you, the author, and any publishers (please pass on this letter to the IB Times)," said the letter.
Jeremy Corbyn's spokesperson had not replied to a request for comment.
'I'm a 9/11 truther'
One post by Anti New World Order reads: "Busted! Israeli IDF Colonel Arrested In Iraq for Leading ISIS Militants". Another is a picture of Earth with a blue Star of David emblazoned over it, and a caption that reads: "The new world of Zionism is almost here. One government. One currency. One religion. Act now!!!"
David Icke is a notorious conspiracy theorist most famous for his claim that the world is controlled by a secret cabal of shape-shifting alien lizards who present themselves as humans, including the Queen and Prime Minister David Cameron, and that the universe is a hologram. He also claims Western leaders are deliberately trying to provoke World War Three with Russia.
Similarly, Jeremy Corbyn once argued that Nato is "advancing military technology and a military presence further and further eastwards in order to create this ghastly scenario of some kind of hi-tech war with Russia in the future."
Cloaked Truth, another of the pages liked by Corbyn junior, claims the Rothschilds, the British Monarchy, and the Vatican "rule the world". The page linked to a series of images suggesting the Twin Towers in New York were brought down by bombs, and added the comment "some good pics in here and some good points". Another boasted: "I'm a 9/11 truther." One post claims to show Isis militants with US Army tattoos.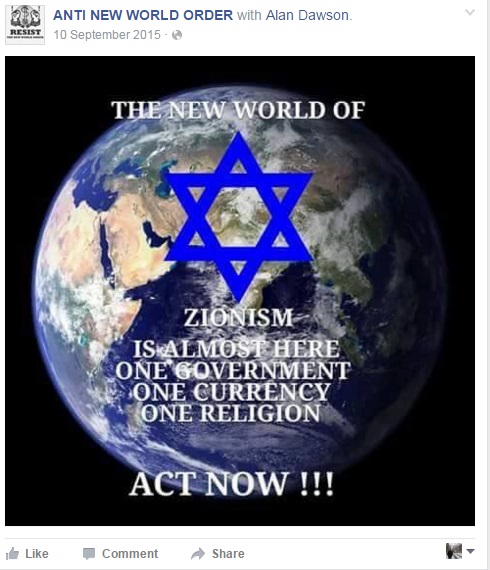 Among other pages liked by Corbyn on Facebook are the Russian and Iranian state broadcasters RT and Press TV, which also have reputations for spreading conspiracies and misinformation and have been sanctioned by the UK broadcasting regulator Ofcom. There are also several anti-Israel pages liked by Corbyn, including the Boycott Israel Network and Friends of Al Aqsa. And he likes pages run by Momentum, a pro-Corbyn group in the Labour party.
LaRouche Movement
Jeremy Corbyn has been criticised in the past for his links to anti-Semitism. While not accused of anti-Semitism himself, he has been accused of being too comfortable sharing platforms with alleged anti-Semites during his pro-Palestinian activism. Corbyn said he does not always share the beliefs of those he sometimes campaigns alongside, or holds meetings with, and often vehemently disagrees with them.
The Labour veteran, elected by a landslide to the party leadership in September 2015 amid a wave of anti-establishment feeling, has also been forced to distance himself from conspiracy theorists. He appeared in March 2015 at a conference run by two conspiracy-peddling organisations with close ties to the controversial LaRouche Movement, which its critics accuse of anti-Semitism and describe as a shadowy far-right cult.
Corbyn appeared via video at a conference put on by the Citizens Electoral Council (CEC) Australia in March, a group which posts conspiracy theories to its website and openly espouses the politics of the LaRouche Movement. The conference was funded by the Schiller Institute, which is also a front for the LaRouche Movement and run by Helga Zepp-LaRouche, wife of its founder Lyndon LaRouche.
Among the articles on CEC Australia's website is one headlined: "British Oligarchy planning new 9/11 to trigger World War III?" Another reads: "MI6 disinformation division conjures new 'evidence' for anniversary of MH17". Corbyn later said he was unaware of the links between the conference and LaRouche, and that his interview was about banking regulation.
© Copyright IBTimes 2023. All rights reserved.