Jeremy Kyle sent the audience into a spin with another chaotic episode of his daily show.
The 52-year-old talk show host nearly fell off the stage as he bragged about knowing a guest's favourite colour.
Kyle was talking to the audience when he almost fell from the raised platform in what was one of the most disorderly segments in the history of the ITV show, already famous for its unscripted drama.
He then took the pregnant guest backstage and laid a newspaper down on the ground, before saying: "I bet Phillip Schofield doesn't have to do this," prompting laughter from the audience.
Kyle also mimicked the croaking voice of guest Cheryl and got her to announce what was coming after the break. Cheryl, 54, was on the show to slam her six months' pregnant daughter Tracey's boyfriend Matt.
While Matt isn't the father, he thinks he is doing the right thing by accepting the unborn child as his own – but Cheryl wants him out of her daughter's life.
She said: "He's a scumbag, he takes weed, he treats her like s**t. He's a sponger, a tramp and he never sticks around. He needs to grow up and man up and be a proper dad."
Matt wanted to prove that Cheryl didn't know him, making her tell the audience what she thought his favourite colour is.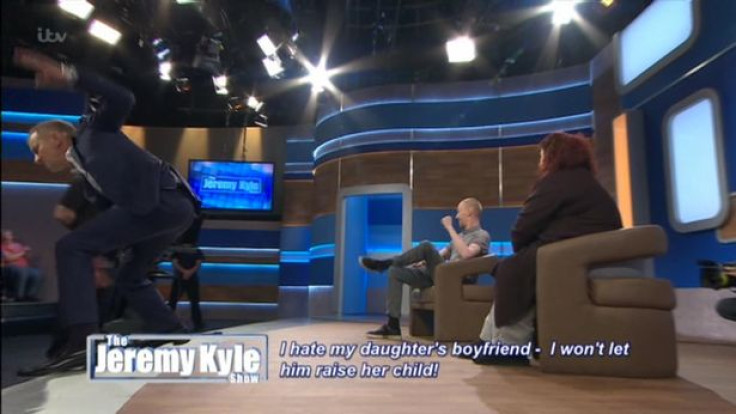 When she said she didn't know, Kylie chipped in and said he did.
He said: "I know what your favourite colour is, it's red isn't it?"
But when he turned to hold his arms out to the audience in triumph, he nearly took a tumble, making the audience gasp.
Kyle's show has been nothing short of chaotic lately, with the host causing a stir with his clumsiness recently for falling over after chasing a guest down the hallway.
He became embroiled in a clash with Kelly after she stole DNA test results and tried to flee the studio – with Kylie attempting to jump on a security guard's back but instead falling to the floor and nearly breaking his wrist.
The Jeremy Kyle show airs weekdays at 9.25am on ITV.