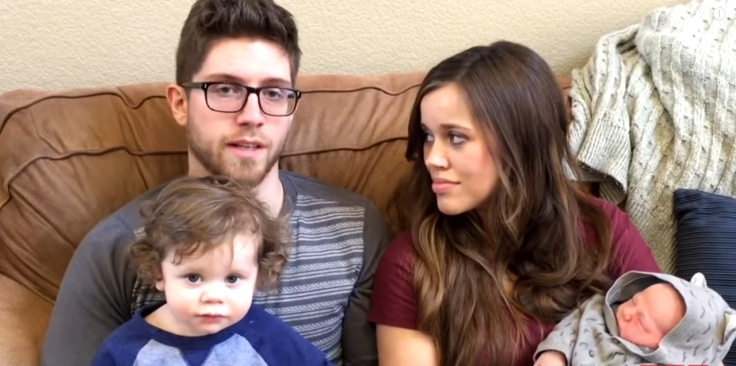 ''Love multiplies," is the mantra for Jessa Duggar and her husband Ben Seewald when it comes to expanding their family. Days after giving birth to a baby boy, the mother-of-two expressed her desire to have more babies.
In a recent interview, the Counting On star revealed her future plans to expand her family but said there is 'little' time gap before they plan for another baby as they just welcomed their second son Henry Wilberforce Seewald.
Apart from having their biological babies, the couple has previously expressed their desire to adopt children and it appears their plan is still on. "It will be a little while since we just had a baby, but adopting and fostering to adopt is very much in our hearts," she told People.
The 24-year-old reality star cites her mother Michelle Duggar as an inspiration and shares her thought on spreading love. "My mom always says, 'Love doesn't divide, it multiplies.' It's so true," she said.
Michelle Duggar, the 50-year-old former 19 Kids and Counting star is mother to 19 children and Jessa is her fifth child.
Their reality show on TLC, which documented the evangelical Christian family's daily life, made them overnight star. But, Jim Bob and Michelle's eldest son's sexual abuse and cheating scandal shattered the family's reputation, prompting the network to cancel the show.
The network, however, never really broke its relationship with the Duggars and continued documenting the family's famous daughters, their courtings, weddings and the birth of their children.
Jessa and Ben are by far the most popular couple and has previously shared their wish to have 15 sons. "I think it would be awesome! I'd love to have 15 sons!" the reality star said in the special episode featuring the labour and the birth of her first baby Spurgeon.
Though their current focus is to raise the two little boys, the couple does have plans to maintain their future large family. "Right now we have two kids and there's two of us, so it's man-to-man coverage. When we have more, we'll have to switch it up to a zone defense," Ben told the news outlet.
Jessa and Ben are parents 15 months old Spurgeon Elliot and 1-week-old Henry Wilberforce.