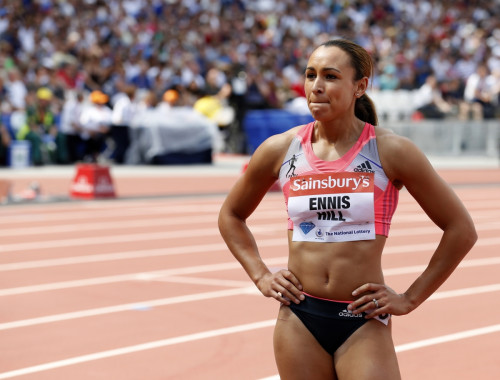 British Olympic heptathlon champion Jessica Ennis-Hill will miss the 2014 Commonwealth Games in Glasgow after announcing she is pregnant with her first child.
The 27 year old plans to defend her Olympic heptathlon crown won at London 2012 in Rio 2016 but will take time out from the sport, missing much of the 2014 season.
Ennis-Hill married long-term partner Andy Hill in May and the athlete admits she is "overwhelmed" by the prospect of becoming a mother for the first time.
"I have some very unexpected but exciting news to share - Andy and I are expecting a baby," said Ennis-Hill.
"We are completely overwhelmed, with excitement and a degree of anxiety that I am sure all first time parents will relate to.
"My plans for 2014 have been completely turned upside down, but having had a couple of weeks to think about things from a career point of view I am 100% set on returning to full time athletics once our baby is born and go for a second gold medal at the Rio Olympics in 2016 - that challenge really excites me.
"But in the short term I will make our baby a priority and enjoy the whole experience as much as possible.
"I am sorry I won't be in Glasgow for the Commonwealth Games, but know it will be an amazing occasion. I will be at home awaiting the arrival of a little Ennis-Hill."
The former world champion endured an injury-ridden 2013 season, withdrawing from the London Anniversary Games in July, a year on from her heptathlon victory in the Olympic Stadium.
Ennis-Hill played a central role in among the finest nights in British sporting history at London 2012 where she won one of three gold medals along with Greg Rutherford and Mo Farah.
Awarded a CBE for her heroics in the Olympics as part of the New Year honours in February, Ennis-Hill is among British sport's most recognisable personalities and was expected to be one of the big draws at the summer's Commonwealth Games.