Jill Duggar accused of putting baby Israel in danger; Jessa shares adorable picture of Dillard family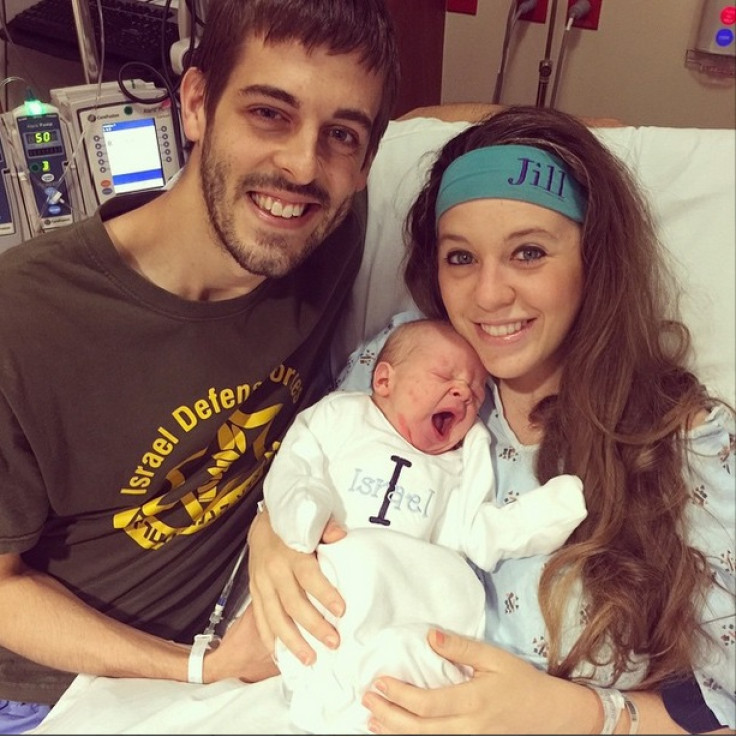 Jill Duggar has been criticised for carrying her newborn son Israel David in an incorrect manner in a baby sling. Fans of the reality star have accused her of putting her baby in a potentially dangerous position.
A sling is used to carry the baby close to the mother's chest while in a picture posted by a Facebook group; the 23-year-old mother was holding her infant son "so low that the face of Israel David Dillad was not visible".
"Unless she is nursing, which doesn't appear to be the case, she is wearing the sling wrong! He should be nuzzled up against her chest," a Facebook user commented on the post.
The Duggar daughter is a trained midwife and has helped many expectant mothers deliver babies successfully. However, in her case, she went through a painful 70 hour labour before undergoing a C-Section to deliver her baby.
"That sling is not in any way situated properly," another fan said. "I know I'm not a perfect baby wearer, but that looks just dangerous."
Fans also mocked the reality star of putting her baby in a bag instead. One Facebook user said: "Slings are fine if baby is properly positioned, but she might as well have put him in her purse. Babies can suffocate that way and his body isn't being supported well at all."
Jessa Duggar, the younger sister of Jill, meanwhile, is enjoying her pregnancy as she completes her first trimester.
The 22-year-old reality star, who got married to Ben Seewald in November last year, is chronicling her journey as an expectant mother through her social media posts and has shared an adorable picture of her sister's complete family.
The 19 Kids and Counting star revealed that she plans a home birth and added that she is not worried about the ordeal her sister went through while delivering her baby.
"I am not comparing, not worrying about what could happen, we are just getting prepared," the Duggar daughter told People Magazine.
"Every birth story is unique. We think we want to go with a midwife and plan for a home birth, but I want to just be prepared that not everything may go as planned and try not to get worried about it," she added.
The 19 Kids and Counting star is expecting her baby on 1 November this year.
© Copyright IBTimes 2023. All rights reserved.