It was Jimmy Kimmel's evening at the Oscars 2017 and he made sure to exploit every bit of it to roast his nemesis Matt Damon. Years have passed since the comedian started his gag "apologies to Matt Damon, we ran out of time," and the joke still has the capacity to make any audience giggle.
At the 89<sup>th Academy Awards, Kimmel started his monologue with scathing jokes on his fake rival Damon. "Tonight, in spirit of healing and bringing people together, I would like to bury the hatchet with someone I've had issues with. I would. Matt Damon," the 49-year-old talk show host began his opening monologue. "I've known Matt for a long time now. I've known Matt so long, when I first met Matt, I was the fat one, okay? It's true. And we've had problems. He's a selfish person. Those of you who have worked with him know this. But Matt did something very unselfish and I want to commend him for it."
Joking about Damon's disastrous film The Great Wall, Kimmel added: "He handed an Oscar-caliber role over to his friend and made a Chinese pony tail movie instead. And that movie went on to lose $80m. Smooth move, dumb ass. See? It's so easy to reach out and heal."
Kimmel continued his repetitive act on the Oscars evening when Ben Affleck and "guest" (read Damon) appeared onstage to present the award for the best screenplay award.
Kimmel turned mean and started playing music every time Damon tried to speak. "Wrap it up! We want to go home!" Jimmy joked from the music chamber.
The Bourne actor's critically acclaimed film Manchester By The Sea was nominated in the best picture category and Jimmy wished him bad luck while wrapping up the final announcement. "And now, my favorite part of the night is here. A chance to see Matt Damon lose an Academy Award. Here to present our final Oscar on the 50th anniversary of the great movie Bonnie and Clyde, please welcome Warren Beatty and Faye Dunaway."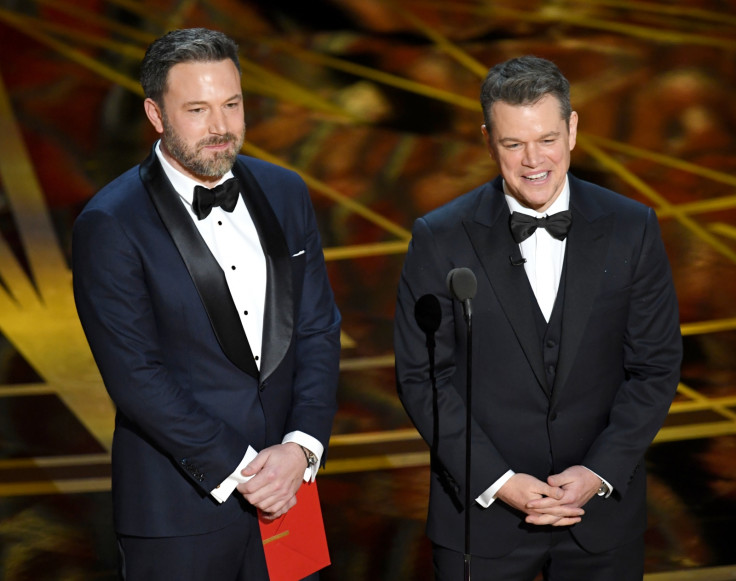 However, the biggest twist during the final moments of the evening was Kimmel's worst nightmare after his effortless and entertaining event hosting, when Warren Beatty pulled a Steve Harvey by announcing La La Land as the best picture instead of Moonlight.
Don't forget to watch the show host's hilarious tribute to his rival for his film We Bought A Zoo.
Here is how fans reacted to the Matt vs Jimmy battle at the Oscars: