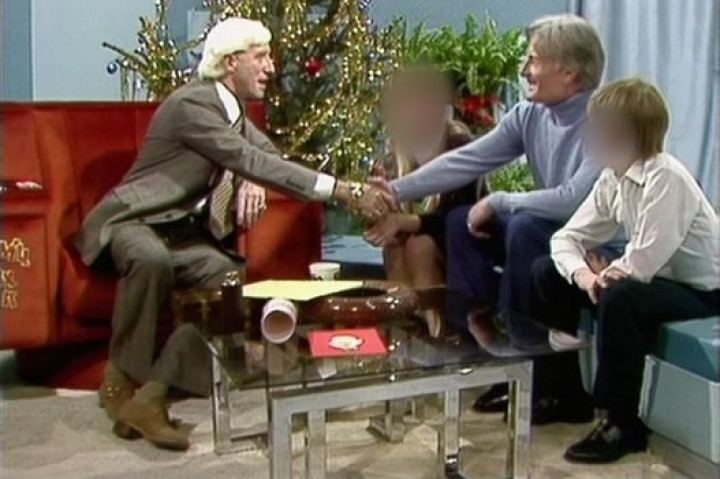 A member of a notorious child sex abuse group, which advocated lowering the age of consent to four, appeared with Jimmy Savile on television surrounded by children.
Keith Harding -- a clockmaker and antiques expert -- was invited on to Jim'll Fix It by the BBC in 1980, as part of a staged task for the Savile show.
It has emerged in newly uncovered documents that Harding was membership secretary for the Paedophile Information Exchange (PIE).
Harding and Savile -- reckoned by some to be Britain's worst-ever sex abuser -- shook hands as the paedophile TV host tasked him with fixing a child's music box.
A lawyer acting for victims of Savile called the revelation "extremely troubling".
One of the young guests on the day revealed the BBC had set up the meeting by asking his family to write in to Savile for the segment. That engineered the on-air meeting between Savile and Harding, who fixed the young girl's music box.
Harding, who died aged 82 earlier this year, had already been convicted for child sex abuse in the 1950s, almost 30 years before appearing on the primetime TV show.
During the 1980s he was also active in PIE, according to a social services report from 1985.
The youngsters who sat with paedophiles Savile and Harding in front of the cameras, were not sexually abused by the pair, according to one of the young guests who is now aged in his 40s. But 'Dean' told BBC: "It takes away your childhood."
Harding denied being a member of PIE when confronted by social workers in the 1990s. He claimed he acted as a counsellor by members of the controversial group which split up in 1984.
A BBC spokesman said: "Today's BBC has appropriate safeguards in place to protect children and young people. Dame Janet Smith is making an impartial and independent investigation into the historical culture and practices of the BBC, which will identify lessons to be learned from the Savile period."