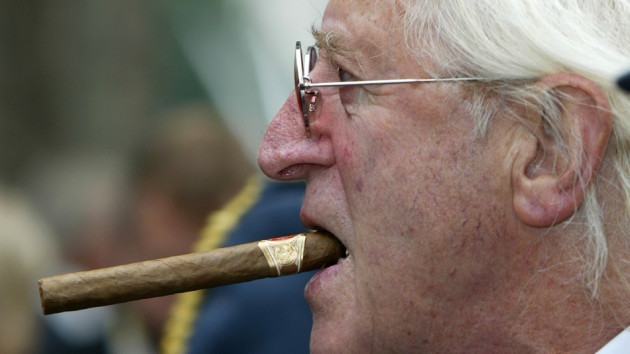 Jimmy Savile said he did not care if allegations that he was a paedophile and necrophilliac became part of his legacy after he was gone.
In an interview with the Irish Independent in 2001, Savile said children could sense the truth, so being accepted by young people meant these allegations were "irrelevant".
The interview took place in the Central Remedial Clinic, in Dublin,which cares for children and adults with physical disabilities in Ireland.
Savile said: ""B******s to my legacy. If I'm gone, that's that.
"Grown-ups can be kidded but as with these people here in the clinic kids can't be kidded.
"They smell the truth, they sense it. If any of those stories were true they'd know it. And I have to say that all the things I've done in my life including Top of the Pops have got to be worthwhile to allow me to sit here today.
"And be accepted by these children who have such crosses to bear. In that sense, whatever is said after I'm gone is irrelevant."
During the interview, Savile categorically denied being gay or being into necrophilia. He said when tabloids make claims that he was a "poofter", he responds: "I just say, 'It would be a lot worse if it was true,' and that silences that line of enquiry."
He avoided directly answering the question of whether he was "into little girls", but did say it was not part of his world.
Speaking about how he had sex with "hundreds of girls", Savile said: "Naturally! Being a fella of athletic power, when the girls are there, off you go!"
The BBC DJ also spoke about how he thought love was "stupid and illogical" because it was emotional.
He said he had decided by the age of 10 never to marry after seeing family members "end up with upsets".
Savile also said he had never cried in his life, even after his mother - who he never told he loved - died.
His lack of emotion prompted another interviewer to ask if he was a psychopath and questioned the work he did at Stoke Mandeville Hosptial.
"I said, 'Everything, from taking milk into the wards to taking the lately deceased from the wards,' and that suddenly becomes 'he's into' necrophilia. But that doesn't bother me at all."
The Metropolitan Police Service has said it has identified over 200 potential victims in the investigation into child sexual exploitation by Savile.