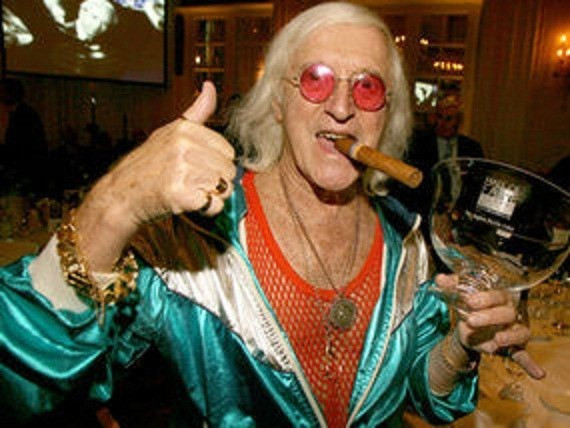 A statue of Sir Jimmy Savile has been removed from a Glasgow leisure centre amid allegations that the late entertainer raped and sexually abused young girls.
The wooden sculpture outside Scotstoun Leisure Centre was pulled down by operators who said they "felt it necessary" to remove the statue which overlooked the children's swimming pool. It had stood on the site since 1993, in honour of Savile's charity work.
A spokesman for Glasgow Life, which operates the centre, said: "Given the current controversy and the seriousness of the allegations, we thought it appropriate to move the statue at this time."
The decision comes just days after an historic rape allegation made against the Yorkshire-born DJ and presenter was referred to Scotland Yard by officers in Surrey.
In the explosive ITV documentary, The Other Side of Jimmy Savile, a number of women came forward to accuse the former Top of the Pops presenter of sexual abuse.
It was also revealed that previous accusations made about alleged abuse in two children's homes were dropped because of a lack of evidence.
The BBC, who Savile worked closely with throughout this career, has now offered its full support to officers, after it's surfaced that some of the abuse may have taken place on its premises.
The broadcaster had initially reacted angrily to its rival channel's allegations.
A BBC spokesman said: "A number of serious and disturbing allegations have been made over the past few days about the sexual abuse of teenage girls by Jimmy Savile.
"Some of these allegations relate to activity on BBC premises in the 1960s and 70s.
"We are horrified by allegations that anything of this sort could have happened at the BBC - or have been carried out by anyone working for the BBC.
"We have today asked the BBC investigations unit to make direct contact with all the police forces in receipt of allegations and offer to help them investigate these matters and provide full support to any lines of inquiry they wish to pursue."
A memorial plaque at Savile's former Scarborough home has also been removed after it was defaced with the words "paedophile" and "rapist".